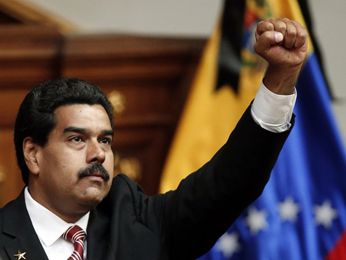 Socialist candidate Nicolas Maduro has won a narrow victory in Venezuela's presidential poll.

Mr Maduro, who was chosen by the late Hugo Chavez, won 50.7% of the vote against 49.1% for opposition candidate Henrique Capriles.

The electoral commission said the results were "irreversible".

There has been no comment from Mr Capriles, who earlier on Sunday has suggested there was an attempt to doctor the result.

Mr Maduro told a rally of supporters in the capital Caracas that he had won a "just, legal and constitutional" victory.

However, the margin of victory was far smaller than that gained by the late President Chavez over Mr Capriles at elections last October.

Mr Maduro said he was willing to allow an audit of the election result.

Almost 80% of eligible voters took part in the poll.

Mr Maduro had been serving as acting president since Mr Chavez died of cancer on 5 March.

He is due to be sworn in on 19 April and serve until January 2019 to complete the six-year term that Mr Chavez would have begun in January.
April 15 2013, 09:37