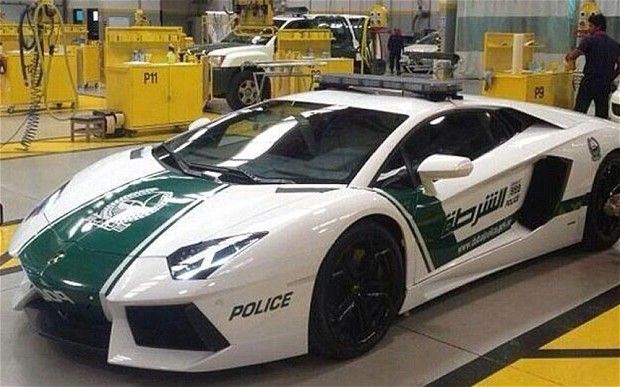 The £360,000 Lamborghini Aventador has a top speed of 217mph and can go from 0 to 62mph in 2.9 seconds In a city of boundless bling, police have to be able to keep up with the bad guys - and when it comes to chasing supercars, your average squad car just might not be up to scratch.
The Dubai Police Department have tackled the problem head on - by adding a £360,000 Lamborghini Aventador to their fleet.

The two-door, two-seater sports car, which can reach speeds of up to 217mph, has been painted in the green-and-white colours of the Dubai police force. It can go from 0 to 62mph in 2.9 seconds.

The Aventador was described by Lamborghini on its website as "a one-of-a-kind piece of art". MSN described it as having "enough power to warp your mind".

The Dubai car may not end up roaring after lawbreakers in very high-speed car chases, however.

Instead, it will be mostly dispatched to tourist areas to show - in the words of deputy police director, Gen Khamis Matter al-Muzaina - "how classy Dubai is."
Local media reports said the Italian-made Lamborghini Aventador is the crown jewel of a wider upgrade in Dubai police wheels.

The force also is adding some American muscle to its fleet with a considerably less expensive Chevy Camaros.

Dubai seeks to show it has rebounded from its debt crisis with brash plans that include the world's largest Ferris wheel and a satellite city named after the city-state's ruler.
April 11 2013, 16:12