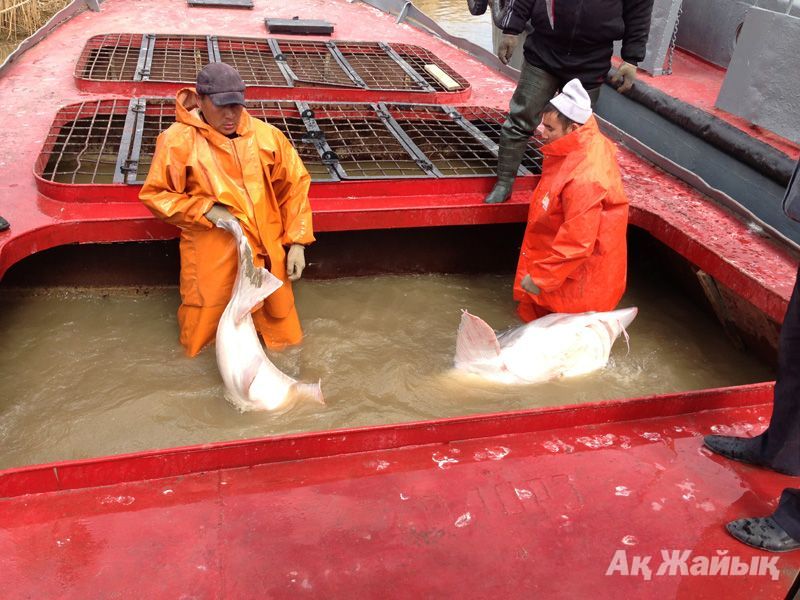 Last Sunday fishermen of "Amangeldy" cooperative caught a roed beluga fish weighing nearly 300 kg. 20 years ago you could hardly surprise anyone with such a catch, but today it is a great luck.
THE FIRST OR THE LAST?
Yes, 20 years ago fishermen used to catch beluga weighing as much as 1 ton (1000 kg), and they used to turn in hundreds of centners of beluga caviar. Is it now the case for rejoice?
Could it be the last beluga? I have one consolation that the hatchlings of this beluga will grow up and then be released to the sea …
Murat Amirgaliev, the owner of "Amangeldy" fish cooperative, called me to share this happy news and in less than an hour we both were heading on a boat towards Lower-Peshnoy fishing ground.
– This is the first beluga we caught this year, – says Murat making no disguise of feelings. I am very surprised that we caught beluga. I thought that it doesn't exist in the Ural River any more.
– How many hatchlings could you get from an average beluga?
– One beluga can produce about 30 kg of caviar, that is, roughly, 1,5 million roes. But the losses at various stages are inevitable: in average total loss may equal to 10-15%, at max. up 25-30%. It may depend on quality of water. The losses happen at fertilization, larval and hatchling stages. So, roughly, out of 1,5 million roes we might have 1 million hatchlings. One caught beluga will help us to implement our plan for hatchlings by 30%.
HI, BIG FISH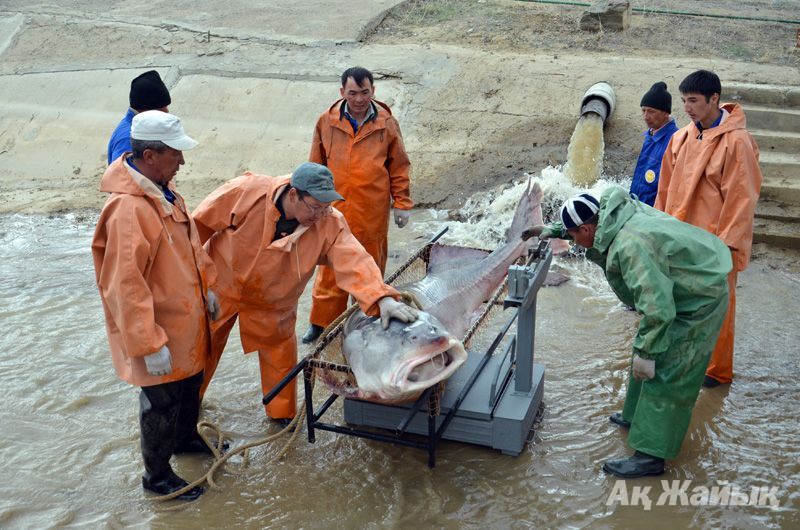 When we arrived to the fishing ground, two fishermen with great difficulty tried to demonstrate to us the caught beluga. The water was silty and I couldn't see the fish. Then there was a big splash and fishermen managed to catch it by the front fins and tail. Its size was impressive.
– On the blacj market such fish will cost 30 thousand US, – said Murat Amirgaliev. There were 20 fishermen in the team holding the net and trying to keep the beluga and they eventually succeded, but it wasn't easy for them. The head of the team Omirzak Azbergenov was awarded for this lucky catch with the trip to Turkey.
I hunt for skilled fishermen as the coach would hunt for premier league football players and try to encourage them with vocational trips to Thailand Turkey, etc. I have good team of fishermen, says Murat.
HATCHLINGS NEED DADDY
The beluga weighed 276 kg, its length was 260 см. The weight of caviar will be identified later.
– This is a fully grown, a bit higher than average, female specie. We will perform an operation to recover caviar or as we call it the reproductive products. We will try to squeeze out the caviar, but if we fail then we will be forced to do abdomen opening. Everything will depend on the condition of the fish,- said the head of the hatchery.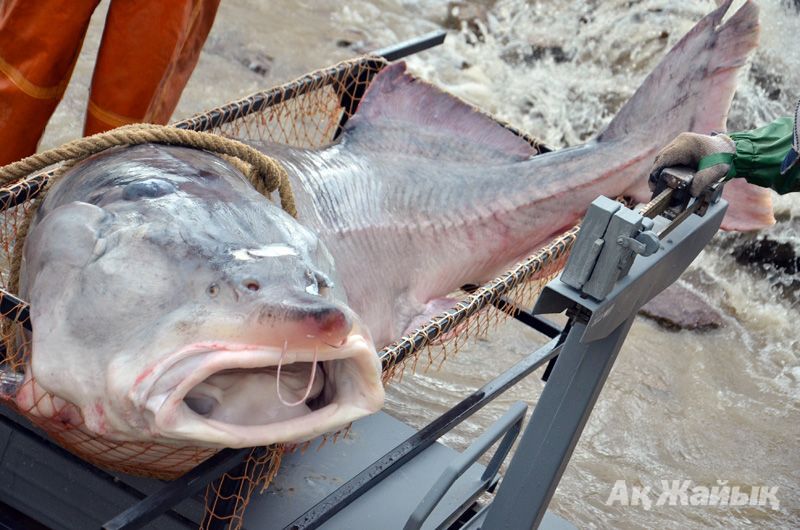 Now that the hatchery has got a female beluga, they need a male one for insemination. After artificial insermination the roes need time- about 1 week to10 days for development of roes. Then the larvae hatches and in couple of months the larvae turn into hatchlings that need to gain enough weight. In July-August the hatchlings are released back into the river.
By Saule Tasboulatova
Photo and video by Kanat Eleuov
April 10 2013, 15:56