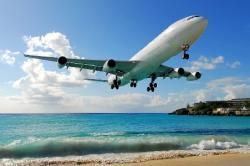 In the course of recertification that will take place in 2013, some of the Kazakhstan airlines may suspend their activity, said Askar Zhumagaliyev, the RoK Minister of Transport and Communications during the governmental hour at the parliament Mazhilis on Monday.
"In 2013, recertification of airlines and aircrafts in compliance with ICAO (International Civil Aviation Organization) standards and with participation of representatives of this organization will be carried out. ICAO forecasts that it is probable that some of the airlines will suspend their activities as the result of such recertification", - Zhumagaliyev told.
This effort "will improve flights safety and allow Kazakhstan aviation to exit the "black list".
"Airlines conducting regular passenger transportation services will also be audited by IOSA (IATA Operational Safety Audit)", - added the minister.
According to Zhumagaliyev, during the last five years there were 21 aviation incidents, where in 15 cases the main reason was non-compliance with flight safety.
He added that in order to solve the problems of shortage of flight safety experts, low wages, low qualification and absence of the status of an aviation inspector, this year it is planned to create a new structure of aviation authorities. "For this purpose within the frame of the regular number of the ministry staff, the staff of civil aviation committee will be increased by 65 people, including 80% of aviation experts, and the number of inspectors will make 40 people", - explained the minister.
On the basis of the civil aviation academy, said Zhumagaliyev, it is envisaged to open ICAO aviation safety training center and unified qualification upgrade training center for experts.
April 1 2013, 11:58