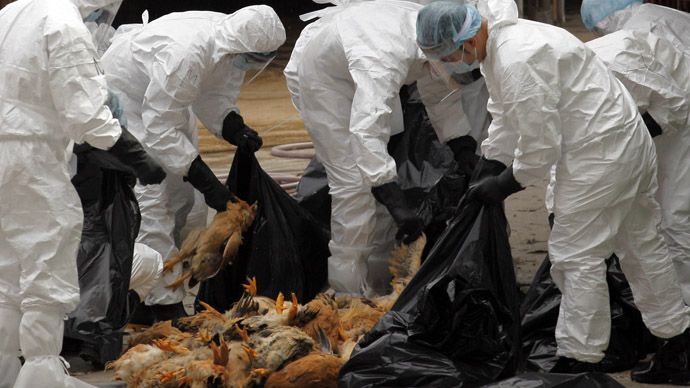 The current strain of H5N1 (bird flu) is highly pathogenic and kills most species of birds and up to 60 percent of the people it infects.Two people in Shanghai died this month from a new strain of avian influenza virus that had never been passed to humans before, China's official Xinhua news agency reported Sunday.
According to a Q&A released on the Health Ministry's website Sunday, two men, ages 87 and 27, were the first reported cases of the H7N9 influenza virus.
The men took ill in late February and died in early March, but the cases were not announced until now since the virus strain was new in humans and the experts had to conduct further laboratory tests to confirm it.
A woman from nearby Anhui province also contracted the virus March 9 and is in critical condition, undergoing treatment at a hospital in Jiangsu province, Xinhua said, quoting the National Health and Family Planning Commission.
The NHFPC said the H7N9 bird flu virus strain had not been transferred to humans before and no known vaccination is available against it.
All three cases showed symptoms of fever and coughs that later developed into pneumonia, Reuters reported.
It is unclear how the three victims were infected. One of the deceased was a butcher, WantChinaTimes reported. However, the authorities said the virus does not appear highly contagious because tests conducted on 88 of the victims' close contacts turned out negative, Xinhua quoted the commission as saying.
Given only three cases, experts cannot confirm the ability of the virus to spread between humans, the Health Ministry said.
China is considered as one of the countries at high risk of bird flu as it has the world's biggest poultry population.
Xinhua
April 1 2013, 10:03