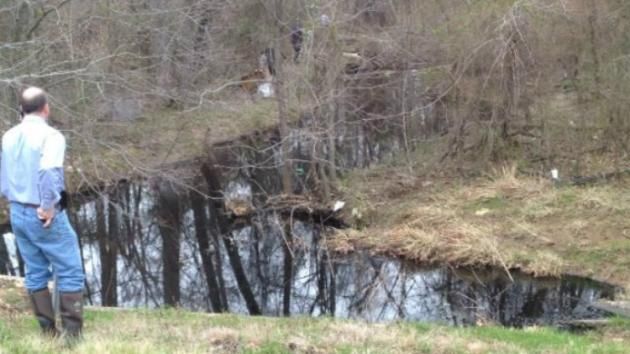 A river of Canadian crude slithers near an Arkansas subdivision after Exxon's Pegasus pipeline ruptures and spills about 10,000 barrels of oil. Courtesy of KATVTransporting tar sands oil from Canada to refineries on the Gulf Coast is a contentious and debatable issue, but one thing isn't up for argument: that the transport of the sticky crude over thousands of miles will lead to spills and damages to property and the environment regardless of efforts to prevent them.
This fact is being demonstrated this weekend in Mayflower, Ark., where 22 homes were evacuated after the 20-inch, 858-mile Pegasus pipeline owned by Exxon Mobil Corporation (NYSE:XOM), which connects an oil terminal in Illinois to refineries in Nederland, Texas, ruptured and sent about 10,000 barrels of crude through a residential area.
Images on ABC's KATV show inky black oil running though front yards and down driveways of an Arkansas subdivision. Residents were initially told to pack and leave their homes for a couple of days; that has now been extended to a week. The oil threatens nearby Lake Conway, the largest man-made game and fish commission lake in the country.
This is the second spill of Canadian crude in a week. On Wednesday train carrying Canadian heavy tar sands crude derailed, sending 15,000 gallons of oil onto the ground. The Environmental Protection Agency has classified the Mayflower spill as a "major spill," according to Reuters.
Last week the Department of Transportation proposed a $1.7 million fine for Exxon over the July 2011 oil spill in Montana's Yellowstone River in which heavy flooding led to a 1,500 barrels spilling into the 692-mile tributary of the Missouri River.
April 1 2013, 09:26