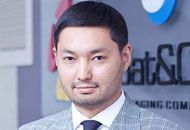 Kenes Rakishev, a famous Kazakh businessman, invested $20mln in Mobli from Israel, becoming its major investor. The other participants of the start up are actors Tobey Maguire and Leonardo Di Caprio, as well as sport stars Lance Armstrong and Serena Williams.
The Israeli company Mobli, a real-time visual media platform, on September 20 announced it attracted investment totaling $22mln, according to Calcalist. The greater part of it was put by Kenes Rakishev, chairman of the board of directors of petrochemical giant SAT&Co and son-in-law of Imangali Tasmagambetov, former prime-minister of Kazakhstan and incumbent mayor of Astana.
This is not the first investment in hi-tech of 33-year-old Rakishev, placed by Forbes in Top 50 Most Influential People of Kazakhstan. This year he spent $32mln to buy share in Net Element that mainly works in Russia. The Kazakh entrepreneur also put $5mln in Israel's TriPlay, a multiplatform software development company. "Mobli has big potential, said Rakishev in an interview with Calcalist. - It enables people to see the world through the eyes of other people. It uses social information means to satisfy the real human need - the need to share impressions, thoughts and ideas with other people in real-time mode and visually."

Film stars Tobey Maguire and Leonardo Di Caprio committed the rest $2mln, whose total investment, at the moment, makes $4mln. Famous athletes - ex cycling star Lance Armstrong and a tennis player Serena Williams joined the Israeli startup, giving $100,000 each .
Mobli intends to create a social network to share pictures, videos and comments on various subjects in real-time mode, with audience non-limited to friends and subscribers. At the phase of beta-testing now it has 20 million registered users of which 5 million visit the page regularly.

Izrus.co.il
September 24 2012, 10:23