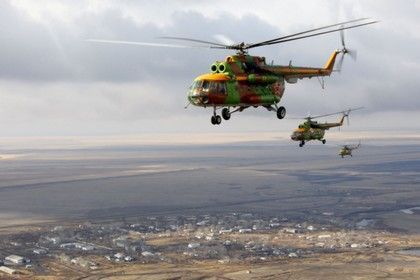 A Russian state commission called for a rare 24 hour postponement in the scheduled landing of a Soyuz spacecraft carrying three U. S. and Russian International Space Station astronauts late Thursday, when fog and freezing rain prevented helicopter born recovery teams from positioning themselves over the landing zone in northern Kazakhstan.

The TMA-06M spacecraft with NASA astronaut Kevin Ford and cosmonauts Oleg Novitskiy and Evgeny Tarelkin will undock instead on Friday at 7:43 p.m., EDT, and then prepare for a braking maneuver that will drop the capsule out of orbit at 10:12 p.m. The spacecraft should land under parachute north of Arkalyk under mostly clear conditions at 11:06 p.m., EDT.

Forecasters, both in Russia as well as the U.S. monitored developments throughout the day Thursday in the hours ahead of an anticipated undocking at 8:30 p.m., EDT. As the three astronauts begin to board their spacecraft more than three hours ahead of the scheduled departure, Russian chief flight director Vladimir Solovyov radioed the station crew with the commission's decision to postpone the landing by a day.

"The weather has not improved," radioed Solovyov "The weather is really horrible."

The wintry conditions prevented Russian helicopters from leaving Kostanay in Kazakhstan earlier in the day for their staging site in Arkalyk.

The postponements of Soyuz landings are rare. The most recent occurred in April and September 2009, the first due to poor weather and the second due to a temporary issue with a Russian segment docking mechanism.

The delay stretches the Expedition 34 mission for which Ford served as the commander from 143 to 144 says.

Upon the undocking Friday, veteran astronaut Chris Hadfield is slated to become the first Canadian to serve as the ISS commander as activities shift to Expedition 35.
March 15 2013, 11:33