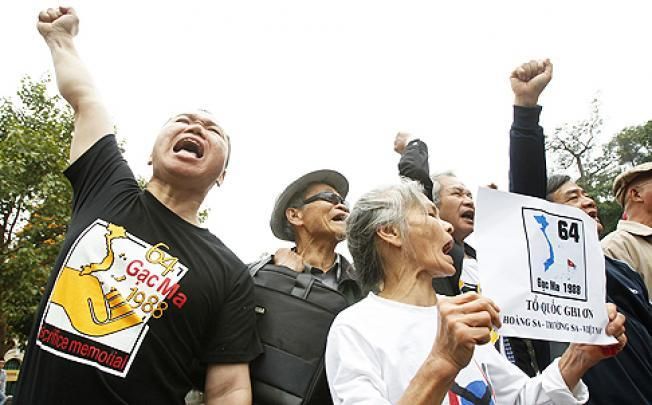 Activists in Hanoi chanted anti-China slogans and laid flowers Thursday at a protest marking the anniversary of a battle over the contested Spratly Islands in which 64 Vietnamese soldiers died.

Vietnam and China have been locked in long-standing territorial disputes over the Spratly and Paracel Islands, which both countries claim, and often trade diplomatic barbs over oil exploration and fishing rights in the contested waters.

In 1988 China launched an attack on Gac Ma Island -- one of the larger Spratly Islands which was formerly under Vietnamese military control -- killing dozens of Vietnamese soldiers in the last violent conflict between the two nations.

On Thursday some 20 activists laid floral wreaths covered with black ribbons which read "the people will never forget" at a statue of Ly Thai To -- the founder of Hanoi and a nationalist figurehead -- in the centre of the capital.

The protest was the first display of public discontent in Hanoi this year against Beijing's perceived aggression over territory, following half a dozen anti-China demonstrations last year which were broken up by authorities.

Watched by dozens of plain-clothed security officers, the activists played patriotic music and chanted "Hoang Sa (Paracels), Truong Sa (Spratlys), Vietnam!"

"I am very happy today, we came here and laid flowers to remember everybody who died for their country," well-known activist Bui Thi Minh Hang, who has previously been detained for her anti-China protests, told AFP at the event.

Playing a violin, another activist Ta Tri Hai expressed his hope that the ceremony would "help recall our nation's tradition of patriotism -- 1,000 years of history of fighting against foreign invasion, against China".

Vietnam's tightly-controlled state media covered the anniversary but not Thursday's protest. There was no official comment from the government.

Beijing's increasingly assertive stance in the South China Sea has stoked public anger in Vietnam and given way to rare protest in the country.

Apart from China and Vietnam the Spratly Islands are claimed in whole or in part by the Philippines, Malaysia, Brunei and Taiwan.
March 15 2013, 11:22