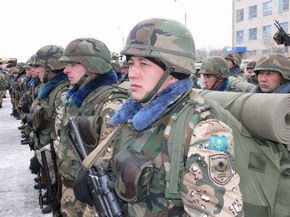 Kazakhstan intends to send peacekeeping units to one of the United Nations missions, reports the country's defense ministry.

Minister Adilbek Dzhaksybekov met with the ambassador extraordinary and plenipotentiary of the United Kingdom to Kazakhstan, Caroline Brown.
The parties discussed current situation and Kazakh-British military cooperation prospectives, particularly, the forthcoming withdrawal of NATO forces out of Afghanistan and involvement of Kazakh troops in UN's peacekeeping missions.
In the name of strengthening stability and security in the world, Kazakhstan has firm intention to send a peacekeeping unit to a UN mission. In connection with this, the Ministry of Defense is preparing a Kazakh peacekeeping unit and working upon changes to laws that will allow Kazakh citizens to participate in UN missions, Dzhaksybekov said.

Ms Brown said UK highly appreciate preparedness of Kazakhstan's armed forces and will provide every support to KAZBRIG if it joins peacekeeping operations.

The minister extended gratitude to the British servicemen who took part in the Steppe Eagle-2012 joint tactical peacekeeping exercises.
March 12 2013, 13:51