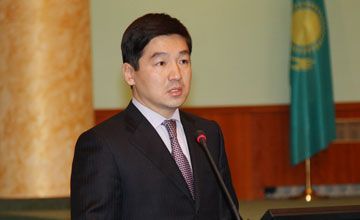 My father studied with Nursultan Abishevich in one class at school, said first deputy chairman of Nur Otan People's Democratic Party Baurzhan Baibek to leading mass media of the country in an informal meeting in Astana, reports KazTAG.
"Our family never boasted about this, but never kept it secret as well. We were silently proud of the fact," he told journalists.
He emphasized his parents held no high post either during the Soviet rule, or the years of independence.
"My father dedicated all his life to railroads. Several years before retirement he worked in passenger transportation. My mum is a food process engineer. Many facilities in Kazakhstan were upgraded with her help. They, two students, met each other in Kiev and married. By the way, my sister was born there," he explained.
Parents had different professions, but the love of music was their common - they would often attend concerts and festivals - Kiev was a very musical city those days.
Their children adopted the passion to art too. "Me and sister went to the famous Baiseyyitova musical school and successfully completed it."

Sister continued her studies in the Almaty Conservatory, where she is a teacher now. Baurzhan followed this suit as well - within the Bolashak scholarship program he entered a higher music school in Lubeck, Germany. After graduation he served an attache in Kazakh general consulate in Germany until he was invited to work with the presidential administration.

"I have no regret about becoming a politician. My melodies are always with me," he said.
Over the past week, Baibek has turnt into the most recognizable and widely quoted politician in social networks.
March 11 2013, 11:59