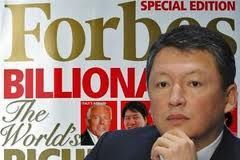 According to Forbes-Kazakhstan, five Kazakh citizens were placed in the 2012 list of the wealthiest people in the world.
This time, 641st place is occupied by Vladimir Kim, chairman of the board in Kazakhmys, owner of $2.3bn; 670th by Bulat Utemuratov [ore mining industry, banking, hotels] with $2.2bn; 704th by Alidjan Ibragimov [ENRC stakeholder] with $2.1bn - his fellow partners Patokh Shodiev, now a citizen of Belgium, and Alexander Mashkevich, an Israeli, own the same amount of wealth; 1107th place is held by Timur Kulibayev [banking] with $1.3bn and his wife Dinara Kulibayeva [banking] with $1.3bn too.
Only three Kazakhs were in the 2011 ranking - Kim, Ibragimov and Utemuratov.

As a whole, 1,426 magnates entered the list with an overall capital of 5.4 trillion dollars to compare with the last year. 210 of them are new to the list.
Another time, the United States is leading the list by giving 442 moneybags to the world. Then follow the Asia-Pacific - 386, Europe - 366, South America - 129 and the Middle East and Africa - 103.
March 5 2013, 10:55