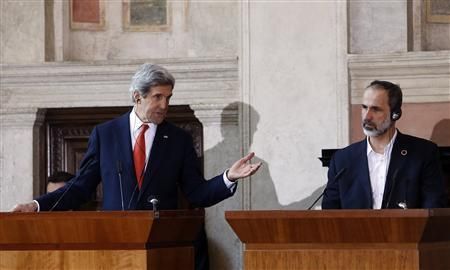 U.S. Secretary of State John Kerry (L) gestures next to Syrian National Coalition head Mouaz al-Khatib, Rome, February 28, 2013. Photo: ReutersWestern powers pledged aid for Syrian rebels on Thursday but stopped short of offering them weapons, disappointing opponents of President Bashar al-Assad clamoring for more arms.
More than 70,000 Syrians have been killed in a fierce conflict that began with peaceful anti-Assad protests nearly two years ago.
Washington has given $385 million in humanitarian aid for Syria but U.S. President Barack Obama has so far refused to give arms, arguing it is difficult to prevent them from falling into the hands of militants who could use them on Western targets.
The United States said it would for the first time give non-lethal aid to the rebels and would more than double its support to Syria's civilian opposition, casting it as a way to bolster the rebels' popular support.
The help will include medical supplies, food for rebel fighters and $60 million to help the civil opposition provide basic services like security, education and sanitation.
U.S. Secretary of State John Kerry announced the new steps after a meeting of 11 mostly European and Arab nations within the "Friends of Syria" group.
The European Union, acting on a decision this month to send direct aid to the rebels, said it had amended sanctions on Syria to permit the supply of armored vehicles, non-lethal military equipment and technical aid, provided they were intended to protect civilians.
If the provision of non-lethal assistance goes smoothly, it could conceivably offer a model for providing weaponry should Western governments ultimately decide to do so.
The aid offered for now did not appear to entirely satisfy the Syrian National Council opposition, a fractious Cairo-based group that has struggled to gain traction inside Syria, especially among disparate rebel forces.
A rebel commander in Aleppo, Syria's second city left devastated by several months of heavy fighting, said the lack of arms was the main obstacle to victory for his forces.
Kerry said the United States would for the first time provide assistance - in the form of medical supplies and the standard U.S. military ration known as Meals Ready to Eat, or MREs - to the fighters.
A U.S. official told reporters it would give the aid only to carefully vetted fighters, adding that the United States was worried that "extremists" opposed to democracy, human rights and tolerance were gaining ground in the country.
REBELS WANT ANTI-TANK, ANTI-AIRCRAFT WEAPONS
The continued U.S. refusal to send weapons may compound the frustration that prompted the coalition to say last week it would shun the Rome talks. It attended only under U.S. pressure.
Many in the coalition say Western reluctance to arm rebels only plays into the hands of Islamist militants now widely seen as the most effective forces in the struggle to topple Assad.
With fighting raging on largely sectarian lines, French President Francois Hollande said at a Moscow summit that new partners were needed to broker talks on ending the crisis, winning guarded support from Russian President Vladimir Putin.
"We think that this dialogue must find a new form so that it speaks to all parties," said Hollande, giving few details of his proposal.
Putin said Russia - one of Assad's staunchest allies - would look at Hollande's proposal, "which I think we could consider with all our partners and try to carry out."
Russia has said Assad's departure must not be a precondition for talks and a political solution, while the West has sided with Syria's opposition in demanding his removal from power.
Kerry's offer of medical aid and food rations fell far short of rebel demands for sophisticated anti-tank and anti-aircraft weapons to help turn the tables against Assad's mostly Russian-supplied forces.
It also stopped short of providing other forms of non-lethal assistance such as bullet-proof vests, armored personnel vehicles and military training to the insurgents.
Last week the European Union opened the way for direct aid to Syrian rebels, but did not lift an arms embargo on Syria.
Kerry said the U.S. role should not be judged in isolation but in the context of what other nations will do.
"What we are doing ... is part of a whole," he said. "I am absolutely confident ... that the totality of this effort is going to have an impact of the ability of the Syrian opposition to accomplish its goals."
reuters.com
March 4 2013, 11:28