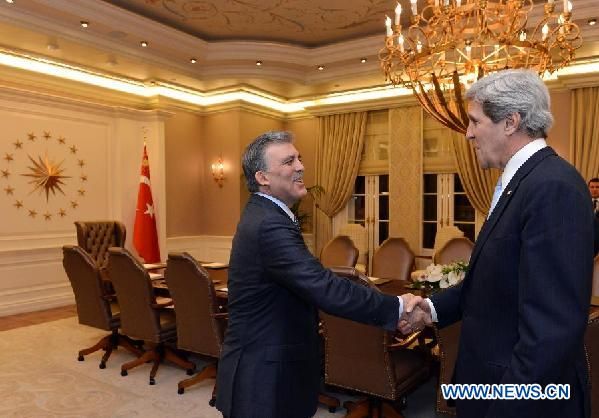 Turkish President Abdullah Gul (L) meeting with visiting U.S. Secretary of State John Kerry in Ankara. Photo:xinhuaU.S. Secretary of State John Kerry said here in Turkey's capital of Ankara on Friday that the United States hopes a "peaceful political transition" in Syria.
Kerry, who arrived Friday in Ankara as part of his first trip aboard as Washington's top diplomat, condemned at a joint press conference with Turkish Foreign Minister Ahmet Davutoglu that "the Syrian regime fired Scud missiles against the Syrian people," but contended both Ankara and Washington "believe the first priority is to explore a political solution" to Syria.
Kerry also said that firing Scud missiles against the Syrian people "is unacceptable."
As for the strained Turkish-Israeli relations, Kerry said Turkey and Israel were both vital allies of the United States, adding, "We want to see them working together... to take concrete steps to change this relation. I believe it is possible."
Turkey and Israel were once important allies, but the relations deteriorated sharply after the flotilla incident in 2010 that killed nine Turkish citizens by Israeli commandos.
For his part, Davutoglu stressed that Israel acted with a hostile attitude when it killed nine Turks in May, 2010, saying " We gave Israel the chance to improve their hostile attitude but for the past two-and-half or three years they only tried to legitimize their hostile act."
March 2 2013, 14:54