nur.kz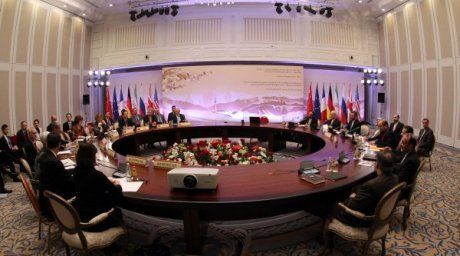 Iran's nuclear talks are over, the official rep of the Iran delegation said to RIA Novosti.
Two-day negotiations of "G-6" international intermediaries (the USA, Great Britain, France, Russia, China and Germany) with Tehran on the Iranian nuclear program in Almaty "were very useful", said Sergey Ryabkov, the deputy head of the Russian Ministry of Foreign Affairs to RIA Novosti news agency, following the results of the Almaty meeting.
"Besides several plenary sessions, there were bilateral meetings where various aspects of the problem solution and confidence-building measures were reviewed," - he said.
Ryabkov added that "G-6" presented to the Iranian party the detailed proposals of how, "in our opinion, it is possible to strengthen trust without which further progress at the negotiations will be complicated."
"G-6" proposed to Tehran to mitigate sanctions enforced in the line of UN Security Council and not to introduce additional ones, if Iran will suspend uranium enrichment to 20 % on its site in Fordow.
If the Iranian party agrees with these offers and is ready to work on them, "G-6" is ready to offer easement of sanctions on Iran (it is in the package offered to Iran the day before the meeting).
During the second day of negotiations in Almaty the Iranian party presented its views and ideas where it tried to take into consideration the proposals made by G-6.
Iranwill continue to develop nuclear program for peaceful purposes, said on Wednesday Saeed Jalili, the head of the Teheran delegation after negotiations with the international intermediaries in Almaty.
"As the participant of the Treaty on Non-Proliferation of nuclear weapon, Iran will continue its nuclear program, and it will be peaceful. Our plans will not change considerably," – said Jalili.
Iranand G-6 representatives made a decision to hold one more meeting in Almaty after experts' meeting in Istanbul on March 17-18.
The next round of negotiations will take place in Almaty on April 5-6, said Altai Abibullaev, the official rep of central communications service under the president of Kazakhstan.
February 27 2013, 15:04