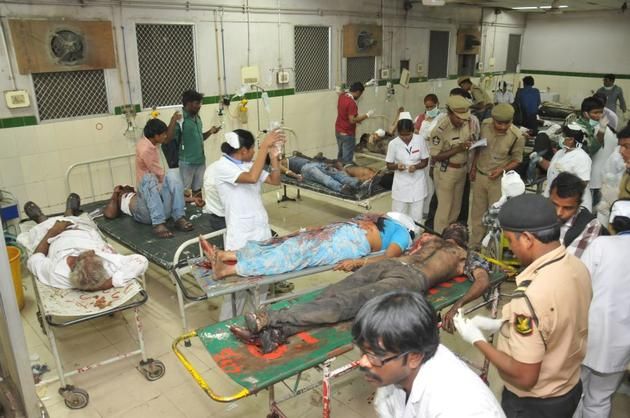 Blast victims at Osmania hospital in Hyderabad. Photo: Nagara Gopal Two powerful explosions ripped through crowded areas at Dilsukhnagar in the eastern part of the State capital on Thursday evening, killing 13 persons and injuring more than 83.
The first blast occurred at 6.50 p.m. on the city's busiest road that links it with Vijayawada; as terrified people were scampering to safety, the second blast went off.
Authorities say the explosions were caused by improvised explosive devices that could have been kept on bicycles or packed inside frames of bicycles.
The twin blasts brought back painful memories of the August 25, 2007 IED attacks in Lumbini Park, in front of the State secretariat, and at Gokul Chat in Kothi that killed 44 people.
Incidentally, one of Thursday's blasts took place near a crowded foot over-bridge, where security forces defused an IED five years ago. The device was to go off along with the blasts in Lumbini Park and Gokul Chat.
Eyewitnesses at Anand Tiffin Centre, near the spot where the first blast took place, said someone began shouting about a bomb going off. Even as confused people watched, the IED detonated.
February 22 2013, 10:37