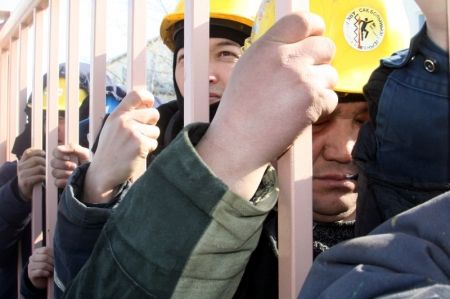 On Feb 19, workers of ship-building Keppel Kazakhstan in Aktau went on strike. The workers gathered at the plant's main entrance in a hope that company administration will talk to them, but nobody from the management came to speak to the workers, reports lada.kz.
The workers demanded pay rise, permission to have time-off, the right to take overtime and to stop unreasonable dismissals.
- When I started the job I was paid 35 000 tenge, now I get 60 000 tenge, but foreign workers working on similar positions receive much more. Besides, we are not allowed to take overtime. If during a week we take a time-off for a reason, later we are allowed to cover for that time during a week-end. But with low salaries like ours, this is important to us, - said Alma Nourgaliyeva, Keppel Kazakhstan employee.
For many months the workers tried to peacefully resolve these "painful" issues with the company management, but unsuccessfully, they were totally ignored.
At the protest action there were also over 20 people who were dismissed: "They employed us for three months for a probation period and paid us 26 000 tenge and we worked hard. But after three months they fired us without explanations and for no reasons,- said Nourseit Aldashev, who was made redundant 5 days ago. They said that on a daily basis the company dismisses 5 people. The next day they employ new people to the same positions and after three months the situation repeats.
These arguments were confirmed by the foreman who has been working for Keppel Kazakhstan for 8 years:
- When at the end of the trial period the company fires even those employees that have excellent qualification and good discipline, they never ask my opinion. So, they are fired by the management that has no idea about their skills or work performance. It's an absolute outrage!
Obvious violations of the Labour Code and human rights. Human Resources change their rules on a daily basis. They do whatever they want,- said the foreman Serik Muratov.
Currently the situation remains unresolved. The company management ignored the demands of the workers, and also refused to give comments to the journalists. The workers said that they will stand until the company administration starts with them on open dialogue.
WKT
February 20 2013, 11:36