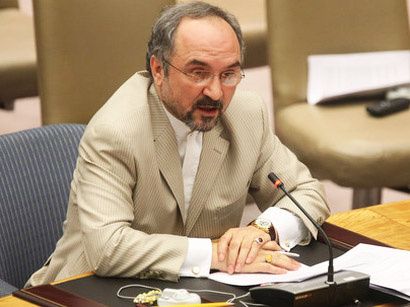 Iranian Ambassador to the UN Mohammad Khazaei has denounced as "nonsensical and futile" the dual policies pursued by certain countries about Iran's nuclear energy program, stressing that sanctions and threats will hamper diplomatic efforts, Press TV reported.

"The officials of the Islamic Republic of Iran have always and in different occasions declared that the policy of a dual approach (the policy of applying pressure and voicing readiness for talks at the same time) that is pursued by certain countries is a nonsensical and futile issue because exerting pressure on Iran will hamper diplomatic efforts," Khazaei said in a letter to the rotating president of the UN Security Council on Wednesday.

He added that Iran has always remained committed to the nuclear Non-Proliferation Treaty (NPT) and is determined to continue cooperation with the International Atomic Energy Agency (IAEA) in accordance with the Safeguards regulations.

The Iranian diplomat emphasized that Tehran would firmly defend its legitimate right to use nuclear energy for peaceful purposes based on the NPT regulations.

Khazaei pointed to the upcoming talks between Iran and the six major world powers of P5+1 in Kazakhstan and said the Islamic Republic expects the opposite sides to be "serious and realistic."

He reaffirmed Iran's right to possess a complete nuclear fuel cycle and expressed the country's constant readiness for negotiations based on mutual understanding and respect.

"The P5+1 group's recognition of Iran's legitimate right to have a complete nuclear fuel cycle including uranium enrichment based on the NPT is a clear and simple issue," he pointed out.

The Iranian ambassador emphasized that talks should be held in a constructive and positive atmosphere to achieve results.

Iran and the P5+1 - Britain, China, France, Russia, the United States and Germany - are scheduled to hold another round of talks in Almaty, Kazakhstan, on February 26.

The last round of the negotiations between Iran and the P5+1 was held in Moscow in June 2012.

The United States, Israel and some of their allies have repeatedly accused Iran of pursuing non-civilian objectives in its nuclear energy program.

Iran rejects the allegation, arguing that as a committed signatory to the NPT and a member of the IAEA, it has the right to use nuclear technology for peaceful purposes.
February 14 2013, 13:11