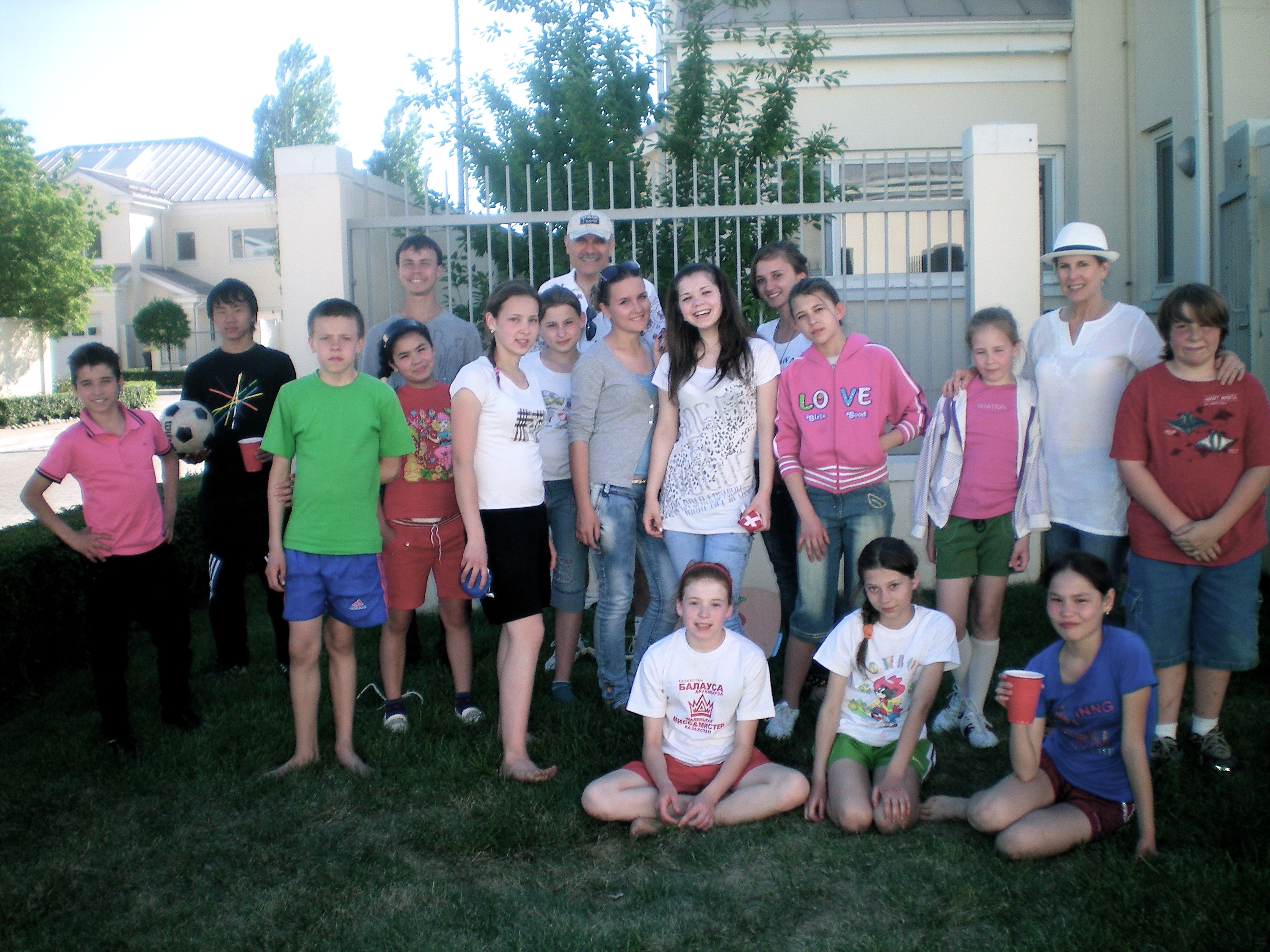 Carol and Dirk with kids from the orphanageThe kids that ended up in the Atyrau city orphanage # 1 named after Sabyr Kazybaev have different fates. Some of them are full orphans and others have parents, but they are either missing, serve time in jail or in medical facilities due to long-term diseases.
This year two kids were returned home, one child was taken by mother who was released from jail and two more were taken by their distant relatives, says Saniya Mussieva, the Director of the orphanage.
Most of the fosterlings never felt the warmth of mother's hands, yet, they exhibit so much enthusiasm for life and have a strong believe that their future life will be happy and prosperous.
One of the people who helps them to build this inner strength and gives encouragement in every way is Carol Cavanaugh. Carol visits the orphanage and delivers English classes for the kids. Apart from teaching English, she involves kids in many other activities, such as going to movies, playing bowling, cooking classes, etc.
I leant about Carol from the students of the orphanage. Some of them dream to become interpreters and, therefore, Carol's assistance with their English is an excellent chance in life.
I wanted to meet this woman who twice a week visits the orphanage and spends her valuable time with disadvantaged kids, and as a good friend tries to help them to achieve their goals in life.
MRS. CAROL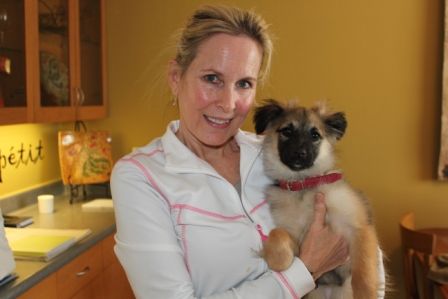 Carol Cavanaugh
Carol met us at her doorstep. Slim and tall, with noble upright posture, she made an impression of a person who is active in life. A little dog came barking and Carol took the dog into her hands. She told us that the dog's name was River, because she found it near the river Ural.
Over the cup of coffee she told us that it's been 4 years since she is visiting the kids in the orphanage.
-"We live in the USA and my husband works for TCO. At home I worked as a nurse and I love my profession. When we moved to Atyrau five years ago, I missed working in the community. Two colleagues of Dirk's introduced me to the director at Akbota orphanage. So, this is how it started. My two friends left, but I decided to continue this activity myself, because we've built a good relationship and became friends."
- What is the purpose of your activity?
-Very often I am asked: why I am doing this? Do I want to adopt a child in the future? And I answer: No. I have my own three kids. I am here as a friend. Many years later, I hope they would remember me and have a warm feeling about me and learn to be kind and generous and sharing in life. That is my goal.
If my visit makes a child happy, brings smiles to their faces, if I can teach a child to feel good about themselves, and help them in the future to find their place in life, I have achieved my goal. I always stress the importance of education, to awake their interest to gain knowledge, because knowledge broadens horizons and opens opportunities in life. My children travelled around the world and gained experience, I wish these kids had the same opportunities.
- What type of system do you have in the USA for the orphans?
- In the USA, the government helps the orphans to get education and assists with medical insurance. But we don't have special foster homes for the orphans, like you do in your country. We have foster families that take orphans to their homes and look after them. And in Kazakhstan you have special homes for such kids. This is a very good system, because I see that children grow together, they build a strong bond between themselves, like sisters and brothers, and they stay friends after they leave the orphanage.
KIDS TALK ABOUT CAROL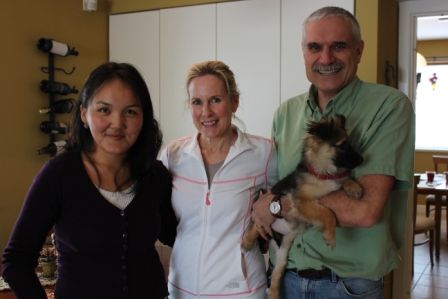 Nurgul, Carol and her husband Dirk (To Say Nothing of the dog River)
In the voices of the children when they spoke about Carol I heard kind-heartedness and warmth.
Lisa (14 years old): Mrs. Carol is a very kind person and it's been three years since she teaches us English. There are 13 kids in our group and we all are very keen to learn English. It would help us a great deal in the future when we will be choosing our profession. Her English lessons are interesting, we play games and learning English is a real fun.
Natasha (13 years old): We are very grateful to her that she finds time for us to teach. When I grow up I will not forget about her. I will communicate with her to learn about her health and well-being and want to be her friend for life.
AFTER GRADUATION
Saniya Mussieva, the Director of the orphanage says that upon graduation from the 9th form, the students enter vocational schools where they learn such professions as welders, cooks, electricians, mechanical technicians, construction workers, tractor drivers, tailors and hair-dressers.
Those children who graduate from the 11th form and decide to receive high education, they receive state educational grants and continue their education in the universities. She says that the main objective of the orphanage is give education to the students and help them with their future jobs. In 2012 the Atyrau Oblast Government Administration provided house keys to 77 boarding school graduates in the rural areas of Atyrau Oblast. The houses are mostly furnished and have basic necessities. And this year, the Oblast Governor B. Izmoukhambetov raised the issue that the orphans should be the next category of citizens after the veterans of war that should receive free apartments from the state.
"If you meet an orphan, take care of him," – is an old Kazakh saying. Taking care of our children, assisting them with education, better preparing young people for their future, helping them to find themselves in life - should be our priority focus and our responsibility, for it is them who will shape our future, our global future.
February 9 2013, 10:45