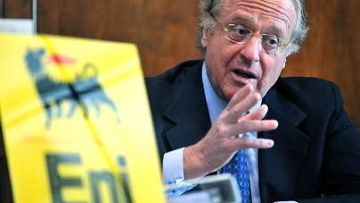 Paolo Scaroni. Phоtо: news.mail.ruItalian energy major Eni's chief executive Paolo Scaroni has been placed under investigation over alleged bribes paid to win contracts in Algeria, the company said on Thursday, denying any involvement in the scandal.
Financial police raided Scaroni's residence in Rome and Eni's headquarters near Milan in their inquiry, which revolves around Eni's oil services subsidiary Saipem and its work on Algerian energy infrastructure.
"Eni and its CEO declare themselves totally unrelated to the object of investigation," the company said.
"Eni acknowledges that the prosecutor has decided to extend the investigation to include Eni and its chief executive officer," it said.
ENI shares plunged on the Milan stock exchange following the reports, closing the session with a 4.62 percent plunge to 17.33 euros.
ANSA news agency quoted justice sources as saying that Scaroni allegedly met in Paris with an intermediary from a company based in Hong Kong who handled bribes paid to Algerian officials to win Saipem contracts.
The intermediary is a French man of Algerian origin related to a former Algerian foreign minister, ANSA quoted documents from the investigation as saying.
An Algerian minister and Eni's head of North Africa operations were also allegedly present at the meeting.
The report said the corrupt payments amounted to €200 million ($A262 million) and a total of eight current and former managers were under investigation.
The money allegedly went to "intermediaries, Algerian government officials and [Algerian energy major] Sonatrach," the court documents reportedly said.
The funds, which were both bribes and kickbacks, allegedly transited through bank accounts in Switzerland and the United Arab Emirates.
Scaroni has a previous conviction dating back to the "Clean Hands" inquiry in the early 1990s for paying bribes to win contracts from electricity major Enel.
ENI's chief financial officer and the head of Saipem were forced to resign after a board meeting in December when the Algeria allegations first surfaced.
Two Saipem executives have also been suspended.
The investigation by Milan prosecutors is an offshoot of a broader long-running inquiry in Algeria.
Saipem has defended itself saying its business activities were compliant with the law.
The inquiry is into suspected bribes given to Sonatrach, where several top executives including the president resigned two years ago over the scandal.
The biggest contract in the inquiry was for the GK3 gas pipeline, which was won by Saipem in 2009 and was worth €0443 million.
February 8 2013, 11:54