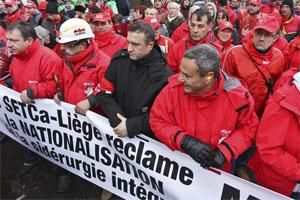 ArcelorMittal steel workers demonstrate as they take part in a 24-hour strike at ArcelorMittal steel plants across Europe. Photo: ReutersThousands of workers were staging strikes and demonstrations on Wednesday at European plants of ArcelorMittal, the world's largest steelmaker, in what unions said was a protest against job insecurity.
The European Metalworkers Federation said strikes ranging from two hours per shift to a 24-hour walkout would take place at plants in Belgium, France and Luxembourg, with stoppages also expected in Italy, Spain and at some sites in Germany.
ArcelorMittal said 24-hour production halts were limited to plants in Luxembourg, Belgium and one in France but had no major impact on output, as the sites affected had already been partially idled.
"The furnaces at all of these plants are idled, they have some cold phase going on, but they are not actually producing steel," ArcelorMittal's media relations head Giles Read said.
Belgian unions said there were 40,000 people at the demonstration in the Belgian town of Liege on Wednesday.
"There are not just steelworkers here today, there are also workers from other sectors, both industry and services, who are on strike," Eric de Deyn, spokesman for the BBTK union said.
"All shops in the city centre are closed out of solidarity with the workers of ArcelorMittal."
The company announced in October that it would permanently end liquid-phase steel production at its site in Liege, given over-capacity and a slow recovery in the European market.
The group also idled blast furnaces in Florange in France and Eisenhuettenstadt in Germany.
The EMF federation said it would hold a news conference in London later on Wednesday on the walkouts and impact on production.
The steel producer, which makes between 6 and 7 percent of global steel and has been laying off staff at some plants, said in early November that a summer dip in demand was deepening into a second-half slump and that customers were increasingly cautious because of economic uncertainties.
Reuters
February 8 2013, 10:09