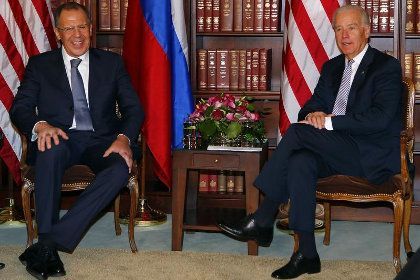 Russian Foreign Minister Sergei Lavrov and US Vice President Joseph Biden at the 2013 Munich Security Conference in GermanyUS Vice President Joe Biden told Russian Foreign Minister Sergei Lavrov on Saturday that Washington and Moscow should continue cooperation in various spheres despite differences, Ria Novosti reports.
Biden and Lavrov met on the sidelines of the 2013 Munich Security Conference in Germany.
"The Vice President emphasized the importance of the two countries working together in the interest of international peace and security, including in Syria," the White House said in a statement.
"The Vice President noted that while the United States and Russia will continue to have serious differences - including, among other things, on human rights and Russia's recent ban on U.S. adoptions - U.S. and Russian leadership is necessary to achieve practical solutions to the challenges facing the world today," the statement said.
Lavrov said after the meeting with Biden that Moscow hopes the United States will take no more steps affecting bilateral relations.
Late last year, Washington angered the Russian government by introducing the so-called Magnitsky Act, a law imposing sanctions against Russian officials suspected of human rights abuses. The law was named after Sergei Magnitsky, a whistleblowing lawyer who died in a Moscow jail in 2009.
Russia responded by banning US citizens from adopting Russian children and prohibiting politically active Russian nongovernmental organizations from accepting financing from the United States.
Russia has faced strong international criticism over its refusal to back UN sanctions against Syria, its last ally in the Arab world, over what it called the pro-rebel bias of some resolutions proposed by western nations. Moscow denies it is backing President Bashar al-Assad and says it is concerned the Syrian president's enforced departure would only worsen the conflict.
February 4 2013, 15:59