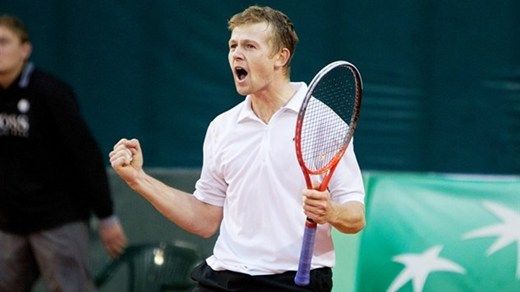 Andrey Golubev (KAZ)Andrey Golubev lifted Kazakhstan into the Davis Cup quarterfinals with a four-set victory over Austria's Jurgen Melzer on Sunday.
The Austrians stayed alive Saturday after a doubles victory from Julian Knowle and Alexander Peya, and Melzer kept the momentum going by winning the first set Sunday, but Golubev quickly regrouped and captured a 4-6, 6-3, 6-4, 6-2 win to give Kazakhstan an insurmountable 3-1 lead in the best-of-five tie.
After the Kazakhs celebrated on the red clay of the National Tennis Centre, the fifth rubber was not played.
Kazakhstan advanced to the quarterfinals for the second time in three years. In 2011, the Kazakhs beat the Czech Republic in the first round before being swept by Argentina in the quarterfinals.
The reigning champion Czechs, who beat host Switzerland 3-2 in Geneva this week, will be Kazakhstan's 2013 quarterfinal opponent in April.
Golubev played all three days this weekend, winning his singles match Friday against Andreas Haider-Maurer to open the proceedings. Evgeny Korolev then followed with a singles win over Melzer to give Kazakhstan a 2-0 lead heading into Saturday.
Knowle and Peya posted a straight-set doubles win Saturday over the Kazakh duo of Golubev and Yuriy Schukin to stave off elimination, but only for a day. The Austrians lost in the first round for the second time in three years. They reached the quarterfinals last year, beating Russia in the first round before falling to Spain.
February 4 2013, 15:32