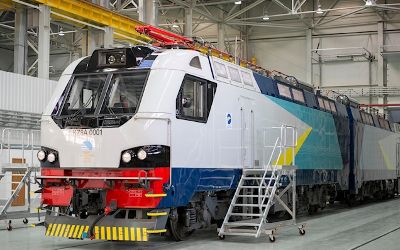 Alstom and Kazakhstan Temir Zholy closed the deal of Alstom's acquisition of an additional 25% in the EKZ joint venture (JV), formed by Alstom, KTZ and Transmashholding to produce electric locomotives in Kazakhstan.
Alstom is a French multinational company operating in the worldwide rail transport markets, active in the fields of passenger transportation, signalling and locomotives.
Alstom becomes the main shareholder of EKZ with 50% of the shares, with KTZ and TMH both holding 25% of the joint venture. Alstom, which held one seat in the EKZ board of directors, will now have two.
Alstom and EKZ also signed an agreement for the production of on-board transformers for the electric locomotives at its factory in order to become a significant manufacturer for such components for Alstom. The production at EKZ will start in the 1st half of 2016, and the project is planned to be launched the same year. The plant should manufacture 200 transformers per year. This project will allow creating over 100 local jobs.
Following these agreements, Alstom will enhance its efforts in developing the EKZ factory in Astana and locally create world-quality products with an export potential, making EKZ one of the main drivers of the Kazakh economy and a hub for the production and export of locomotives to the world, starting with neighbouring countries of Eurasian Economic Union and CIS, such as Azerbaijan or Uzbekistan.
"The increase of our stake in EKZ and the start of a new production are a logical step in the Alstom's strategy in Kazakhstan: building a solid and long-term partnership with the country. Through localisation of technology, production, creation of new working places and training for the local personnel, Alstom gets Kazakhstan's machinery-building industry to a new level and opens it to the global market with 400 local jobs already created. The overall localisation reached 28% and will be increased to 50% in two coming years. I am sure that our cooperation will continue, to the benefit of all the stakeholders, thanks to the favourable investment climate set by Kazakhstan", said Martin Vaujour, Alstom CIS Senior Vice President.
EKZ is working on supplying the electric locomotives ordered by KTZ for 2020[3]. Today, 31 KZ8A freight locomotives and six passenger KZ4AT locomotives are already in operation on Kazakhstan's rail lines. In 2015, Alstom and EKZ were awarded by Azerbaijan Railways a contract to deliver 50 additional locomotives to Azerbaijan.
Kazakhstan is an important hub linking Europe, Middle East, Asia and Russia through the new Silk Way. With almost 20,000 km of track, the Kazakh railway network is the world's third biggest using the 1,520 mm track gauge. Besides wide and winterized rolling stock able to run up to temperatures of -50°C, this market is characterized by very specific technical standards which require adapted engineering solutions. Alstom entered the Kazakhstan's railway market in June 2010 together with its Russian partner Transmashholding, while laying the first stone of the EKZ facility.
Source: akipress.com
February 12 2016, 11:23