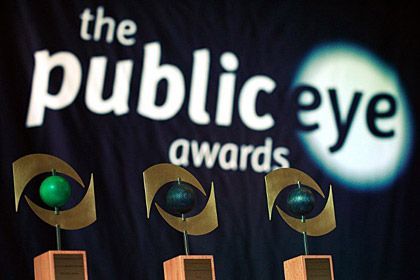 Campaigners at Davos on Thursday awarded their annual Public Eye shame awards to Goldman Sachs and Shell "for particularly glaring cases of companies' greed for profit and environmental sins".
At an "award ceremony" on the sidelines of the World Economic Forum in Davos, the Swiss chapter of Greenpeace and the Bern Declaration said Goldman Sachs had won the jury prize, while Shell had been chosen by online voters for the public award.

Goldman Sachs "is a key player in financially driven globalization, which pays for profits of a few with exploding inequality and the impoverishment of broad strata," the groups said in a statement.

They highlighted the investment bank's role in the Greek debt crisis.

Shell won the public vote by a wide margin among 41,800 online voters, the two groups said, singling out its "highly risky search for fossil fuels in the fragile Arctic".
The third place won the security firm G4S that is accused of rude violations of human rights. In the list of nominees there are also Repower energy corporation, Coal India and Lonmin mining companies and machine building Alcom.

The groups have carried out the "naming and shaming awards" at the annual gathering of the world's political and business elite in the Swiss ski resort of Davos since 2000.

Last year's winner of the jury prize was Britain's Barclays bank, while the public award went to Brazilian mining giant Vale.
January 25 2013, 09:53