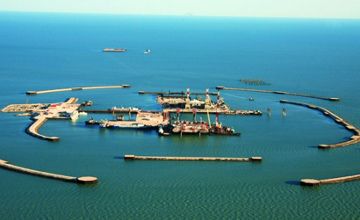 The UK-Dutch oil and gas company Royal Dutch Shell is interested in expanding presence in Kazakhstan.
Royal Dutch Shell has stakes in such Kazakh oil and gas projects as the North Caspian (Kashagan field), Pearl and the Caspian Pipeline Consortium, which operates an oil pipeline running from Kazakhstan's largest Tengiz and Karachaganak fields.

Karachaganak is one of the world's largest fields. Its oil and condensate reserves stand at 1.2 billion tons, and gas reserves exceed 1.35 trillion cubic meters. Karachaganak Petroleum Operating (KPO), which includes BG Group (29.25 percent), Eni (29.25 percent), Chevron (18 percent), Lukoil (13.5 percent) and KazMunaiGas (10 percent), is engaged in development of the field, Kazinform has learnt from trend.az.

In early April 2015, Royal Dutch Shell said it reached an agreement to buy the smaller KPO company - BG Group for $70 billion.

"Shell continues to see Kazakhstan as a strategically important country," said the company commenting on the plans regarding BG Group's share in Karachaganak. "The Shell-BG combination re-affirms Shell's commitment to Kazakhstan and would expand the company's already substantive footprint in the country".

Meanwhile, BG Group has said that in case of a merger with Royal Dutch Shell, it can lose its 29.25 percent stake in the Karachaganak project, because in case of a change in control over the BG Group, Kazakhstan is entitled to enjoy its priority right to buy the company's share in the project.

Kazakhstan, however, hasn't stated about its interest in buying a stake of BG Group in Karachaganak.

Shell didn't comment on a possibility for BG Group to lose its share in Karachaganak.

A recent report from Royal Dutch Shell quoted the company's director general, Ben van Beurden as saying that the deal to acquire BG Group is expected to be completed in a few weeks.
Source: inform.kz
February 11 2016, 17:11