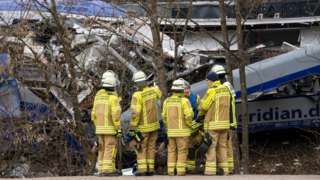 German police have rejected as speculation a report that a line controller turned off an automatic safety system shortly before two passenger trains collided in Bavaria.
Ten people were killed and scores more were injured, 18 seriously.
An unconfirmed report suggested that an automatic braking system had been switched off to allow one of the trains to make up time.
But a police spokesman rejected the theory as "pure speculation".
"Discard that, we reject that," a spokesman told local broadcaster Bayerischer Rundfunk.
The braking system, which is supposed to kick in when a train runs through a red light, was installed after a 2011 disaster at Magdeburg in which 10 people died.
Reports in German media suggested that in exceptional circumstances the automated system could be overridden by rail staff.
Human error is still being investigated as a possible cause of the disaster, which happened on a single-track commuter line on Monday morning near Bad Aibling, a spa town about 60km (37 miles) south-east of Munich.
The transport minister said the trains had crashed into each other while both travelling at about 100km/h (62mph).
Emergency teams, some winched in by helicopter, worked for hours to free casualties from the wreckage.
Source: bbc
February 10 2016, 16:11