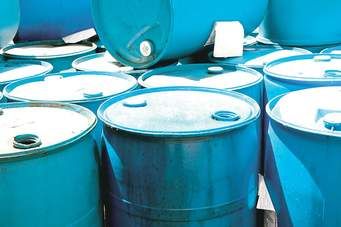 Crude oil prices fell 2 percent on Monday as supply overhang concerns grew after a Saudi-Venezuela meeting on Sunday showed few signs of coordination to boost prices.
Brent futures fell 68 cents to $33.38 a barrel, a 2 percent loss, by 10:36 a.m. EST (1536 GMT), paring a fall of as much as 3.3 percent earlier in the session.
US crude fell 78 cents, or 2.5 percent to $30.11 per barrel, also trimming losses of as much as 4.3 percent earlier in the day.
"With the possibility of a production cutting deal quickly fading into the sunset, market participants are once again left to focus on the reality of the oversupplied global market," Energy Management Institute analyst Dominick Chirichella wrote in a note.
Weekly US crude and gasoline inventories hit record highs, data from the Energy Information Administration (EIA) showed last week. The latest weekly stock data is expected to be released on Wednesday.
In a sign Tehran is determined to claw back lost market share after the lifting of sanctions, Iranian Oil Minister Bijan Zanganeh was quoted by the ministry's news agency SHANA on Saturday as saying that France's Total had agreed to buy 160,000 barrels per day (bpd) of Iranian crude for delivery in Europe.
The flurry of diplomacy over the last two weeks about a possible production cut has somewhat buoyed oil markets.
However, no tangible signs emerged from a meeting on Sunday between Petroleum and Mineral Resources Minister Ali Al-Naimi and his Venezuelan counterpart that OPEC and non-OPEC suppliers were ready to meet to discuss the price slump.
"It was a successful meeting and (conducted) in a positive atmosphere," SPA cited Al-Naimi as saying.
Venezuela's Oil Mminister Eulogio Del Pino, who is on a tour of oil producers to lobby for action to prop up prices, said his meeting with Al-Naimi was "productive."
"But does productive mean less production? The market thinks not, at least right now," said Phil Flynn, an analyst at Price Futures Group in Chicago.Morgan Stanley warned on Monday that a global supply overhang was unlikely to start clearing before 2017.
"We see limited upside for Brent (and range-bound) pricing over the next 12 months as the supply overhang is worked off," the bank said.
However, investors in Brent crude now hold more futures and options contracts that bet on the price rising than at any time since the InterContinental Exchange's records began in 2011, data from the exchange showed on Monday.
Money managers raised their net long position in Brent crude futures and options by 31,346 contracts to 292,300 lots in the week to Feb. 2.
Source: arabnews.com
February 10 2016, 11:59