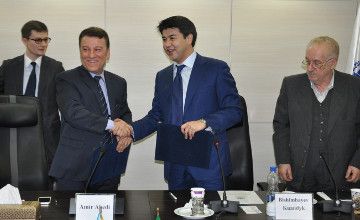 Chairman of Baiterek Holding Kuandyk Bishimbayev, who's been appointed co-chairman of the Kazakh-Iranian Business Council, and Amir Abedi, the co-chairman of the Iranian side, signed the memorandum on mutual understanding in Tehran, the press service of the Holding informs.
"Lifting of sanctions from Iran and the upcoming effective work of the Kazakh-Iranian Business Council allow us to hope that the mutually beneficial cooperation between the two countries will begin this year. The Business Council will assist in strengthening of the trade and investment cooperation, scientific and technical cooperation between Iran and Kazakhstan," K. Bishimbayev told.
According to him, Kazakhstan is now a leader among CIS member states in terms of attraction of direction foreign investments. "Kazakhstan has attracted direct investments totaling over USD 215 bln in the last 10 years. It demonstrates the favourable conditions created in the country on the instructions of the President," K. Bishimbayev noted.
In turn, co-chairman of the Kazakh-Iranian Business Council Amir Abedi noted that the banking system of Iran was ready to become open to introduction of the correspondence relations with the banks of Kazakhstan. "It is important to solve the issue of banks interaction. It is not possible to develop trade and investment relations without it. Besides, we need to abolish the visa regime between Kazakhstan and Iran. Iran has a system of visa issuance at airports with 190 world countries now," A. Abedi said.
Upon completion of the meeting, the first contract between Kazakhstan and Iran after the lifting of sanctions was signed. The document was a contract on provision of meat products to Iran totaling USD 30 mln.
Source: inform.kz
February 10 2016, 11:34