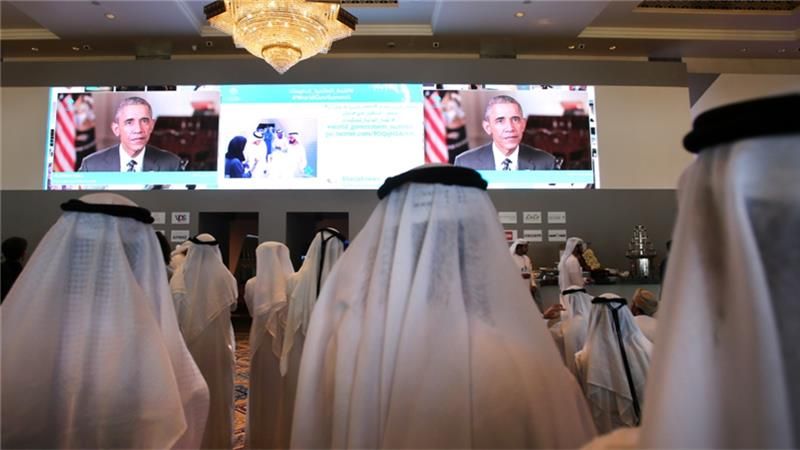 The prime minister of the United Arab Emirates has announced that the country will privatise some government services as well as create a state minister position devoted to ensuring the happiness of its citizens.
Sheikh Mohammed bin Rashid Al Maktoum, who is also the ruler of Dubai, made the comments on Twitter after appearing at the World Government Summit being hosted by the emirate.
He announced that some government ministries would be merged, while a minister of state position would be created to oversee tolerance in the Arab Gulf country that is home to many faiths and ethnicities.
"It is a beginning of a new journey of achievement and giving to the people and we ask Allah to help us to serve and take care of them," one message read.
The series of tweets sent out to coincide with the summit did not offer a time-frame for when the plans would be implemented.
However, they come amid a push by Sheikh Mohammed, 66, focused on happiness in his emirate, which is known for its futuristic skyscrapers and a liberal disposition.
In his tweets on Monday night, Sheikh Mohammed said the changes in the federal government came after he consulted Sheikh Mohammed bin Zayed Al Nahyan, Abu Dhabi's crown prince.
This is not the first time Sheikh Mohammed has turned to Twitter to make a major announcement.
Last week he posted messages to Twitter saying he wanted a young person under 25 to serve as a UAE government minister to oversee youth issues.
The UAE is a federation composed of seven autonomously ruled emirates.
The ruler of oil-rich Abu Dhabi, Sheikh Khalifa bin Zayed Al Nahyan, serves as the country's president.
Source: al-jazeera
In the future, UAE will have its own minister devoted to ensuring the happiness of its citizens [Kamran Jebreili/AP Photo]

February 9 2016, 09:55