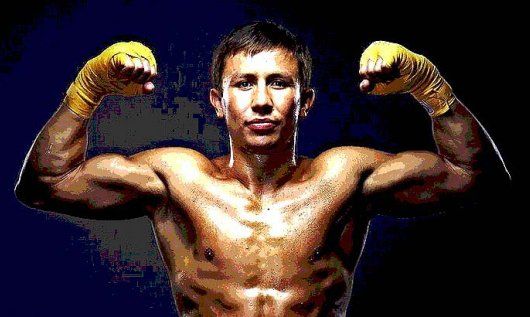 Born in Kazakhstan and fighting out of Los Angeles, unbeaten in 34 fights with 31 knockouts, middleweight sensation Gennady Golovkin is our Fighter of the Year for 2015 and by some distance, Boxing.com writes.
Golovkin was the clear favorite of our readers and writers as he romped away from his nearest challengers Roman Gonzalez (2nd), Floyd Mayweather Jr. (3rd) and Viktor Postol (4th). Gennady was also voted the fighter you most like to watch.
Reporting on Golovkin's last win of the year, an eighth round TKO of David Lemieux at Madison Square Garden, Boxing.com editor Robert Ecksel wrote:
"Fighting out of the red corner in white trunks with blue and red trim, Golovkin did to his opponent what he did to the last 20 men he fought, even though Lemieux was the most accomplished fighter he has faced. He ate a few punches in the process, whereas Lemieux was force-fed a bloody smorgasbord.
"Lemieux, fighting out of the blue corner in purple trunks, had neither a game plan nor the skills to compete with the juggernaut Triple G. The Canadian had his moments, particularly in the sixth and seventh rounds, but it was an uphill battle that Lemieux was destined to lose and lose big.
"The 20,548 who crammed into the Garden got what they paid for. They wanted to see one man dismantle another and Golovkin was more than happy to oblige. He stalked and stunned Lemieux on numerous occasions, using the jab, hook, straight right and uppercut in his well stocked arsenal.
"Lemieux has plenty of grit. He was unhappy with the stoppage. He wanted to go out on his shield. But the result was, for all intents and purposes, a foregone conclusion, due less, however, to Lemieux's deficiencies than to Golovkin's proficiencies.
"As boxing proceeds to fill the void Floyd's retirement has created, we're going to see several fighters in the upcoming months anointed as the next big thing. There's a ton of talent out there, master boxers as well as master sluggers, all of whom appear to have been born for the express purpose of filling big shoes.
"If Golovkin keeps winning, and there's no reason to think otherwise, the Kazakh Kid may become the new face of boxing, and it's a face that neither sneers nor registers scorn."
Our Fight of the Year award was also comfortably won. The vote went to the victory scored by Mexico's Francisco Vargas (now 23-0-1) over Japan's Takashi Miura (29-3-2) in their WBC world super featherweight championship match at the Mandalay Bay Hotel & Casino in Las Vegas
Lance Pugmire of the LA Times wrote: "Francisco Vargas looked finished. In a strong fight-of-the-year candidate, he showed he wasn't.
"Mexico's super-featherweight recovered from a knockdown followed by a battering near the end of the eighth round to rally and record a stunning ninth-round technical knockout of Japan's Takashi Miura on Saturday night at Mandalay Bay, where Miguel Cotto and Saul 'Canelo' Alvarez were headlining the card.
"With the stoppage at 1:31 of the ninth, Vargas (23-0-1, 17 knockouts) took away the World Boxing Council belt from Miura (29-3-2).
"Vargas, in a startling display of will, was in big trouble after getting rocked by punches in a neutral corner after eight rounds. Instead of fading after a minute's rest, he found inspiration and knocked down Miura with a big right followed by a combination of punches. Seconds later, after Miura tried to cling to Vargas for dear life, Vargas landed a left uppercut and finished him with another heavy blow.
"Vargas staggered Miura in the first round with a right-handed punch to the head, causing the champion to shrink to survivor mode. Another right uppercut late in the round hurt Miura. Miura showed signs of recovery in the third round, landing body punches that slowed Vargas. Then, late in the fourth, he knocked down Vargas, belting him with a straight left on the nose that was set up by a jab.
"A cut Vargas sustained under the right eye in the first round grew red and swollen as the bout proceeded, with Miura lefts compounding the problem.
"In the seventh, Miura subjected Vargas with more punishing lefts to the face, leaving the challenger to lean on his will that was further tested by more lefts, leading to the flurry that closed the eighth by Miura.
"At that stage, it seemed as if Takashi Miura was on his way to victory. But Francisco Vargas had other ideas as he turned the fight around in spectacular fashion."
Also garnering votes in our Fight of the Year category were the following bouts:
Ruslan Provodnikov WON MD 12 Lucas Matthysse
Donovan Dennis WON KO 2 Razvan Cojanu
Hekkie Budler WON UD 12 Simphiwe Khonco
Kohei Kono WON UD 12 Koki Kameda
Danny Garcia WON MD 12 Lamont Peterson
In the Top Prospect category, the outstanding performers share identical professional records of 19-0-0. Welterweight Errol Spencer Jr., from Desoto, Texas, is our winner, ahead of joint runners-up Joseph Diaz, the featherweight from Downey, California, and lightweight Felix Verdejo from San Juan, Puerto Rico.
Text/picture: Boxing.com
January 6 2016, 10:07