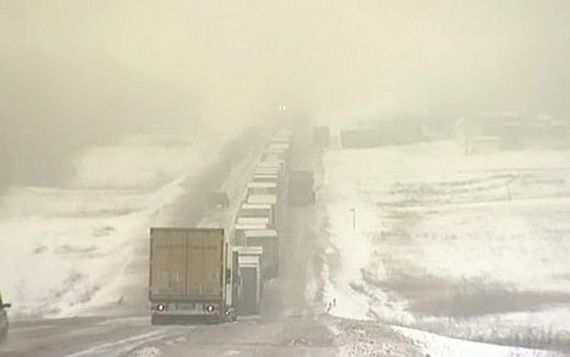 Nasty weather forced authorities in six regions of Kazakhstan to close roads, Kazinform has learnt from the Committee for emergencies of the Internal Affairs Ministry of the Republic of Kazakhstan.
Sections of the Samara-Shymkent, Karabutak-Komsomol, Aktobe-Orsk, Kandyagash-Emba-Shalkar-Irgiz, Aktobe-Rodnikovka-Markut, Badamsha-Aktobe-Orsk, Shubarkuduk-Uil-Kobda-Kenkiyak-Emba and Aktobe-Orsk-Petropavlovsk-Khazretovka were shut down in Aktobe region due to blowing snow and gusty wind.

Blizzard and poor visibility forced the East Kazakhstan authorities to impose vehicular restrictions for all types of transport on a section of the Karaganda-Ayagoz-Bogaz highway.

A section of the Samara-Shymkent motorway was closed in West Kazakhstan region due to blizzard.

Rain showers made it impossible for traffic to move along the Kyzylorda-Pavlodar and Almaty-Yekaterinburg highways in Karaganda region and they were shut down as well.

Bad weather also blocked highways in Kostanay region, namely sections of the Karabutak-Denisovka, Kostanay-Auliyekol-Surgan, Denisovka-Zhitikara-Moktykol, Zhitikara-Kamysty-Livanovka, Arkalyk-Torgai, Auliyekol-Zholdama and Rudniy-Kachary-Fedorovka.

A section of the Samara-Shymkent highway crossing Kyzylorda region was closed because of heavy snowfall and blizzard.
Source: KAZINFORM Picture: gorod48.ru
January 5 2016, 15:46