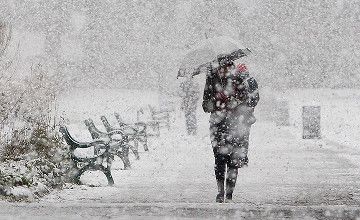 Blowing snow, fog, ice slick and strong winds up to 23-28 mps are expected in Kazakhstan on 28 December.

According to Kazhydromet, strong wind of 15-22 mps with gusts of 23-28 mps are expected in Akmola, Atyrau.
Strong wind of 15-20 mps with gusts of 25 mps is also predicted for Karaganda, East Kazakhstan, Kyzylorda, Zhambyl, South Kazakhstan, Aktobe regions.
Snow storm, black ice, wind with gusts of 15-20 mps is forecast for Kostanay region of the country.
Blizzard, ice slick, wind of 18-23 mps will rule the day in Pavlodar region.
Snowstorm, wind of 15-20 mps is predicted for North-Kazakhstan, West Kazakhstan regions.
Windy weather is expected in Mangystau region.
Wind of 20-25 mps is predicted for Zhalanashkol area of Almaty region. Fog will blanket the area nighttime.
Source: inform.kz
December 28 2015, 08:58