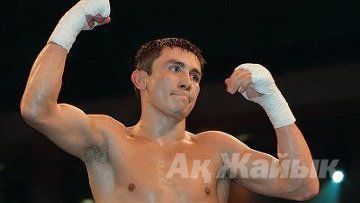 One of middleweight titlist Gennady Golovkin's dreams has been to fight in the Big Apple and begin to build a name for himself in the United States.
He's on his way after retaining his title for the sixth time in a blood-soaked seventh-round knockout of Gabriel Rosado on Saturday night at the Theater at Madison Square Garden on the undercard of the Orlando Salido-Miguel Angel "Mikey" Garcia featherweight title fight.
Golovkin, 30, a 2004 Olympic silver medalist from Kazakhstan, made his United States debut in September in a title-retaining fifth-round knockout of former European champion Grzegorz Proksa. He looked just as good taking Philadelphia's Rosado apart in his second consecutive HBO appearance.
Golovkin -- who was sick in bed two days ago and considered pulling out of the fight -- dominated even though Rosado, 26, was game.
He cut Rosado in the corner of his left eye in the second round. He rocked him with a right hand in the third round. By the fourth round, Rosado's face was a bloody mess after also being cut over his left eye and bleeding from the nose.
Rosado (21-6, 13 KOs) must have landed something solid in the fifth round, because Golovkin (25-0, 22 KOs) suddenly had a bruise around his right eye. But Golovkin was dishing out way more than he was taking.
Rosado's left eye was in very bad shape and the ringside doctor took a good look at it before both the sixth and seventh rounds as Rosado pleaded to be allowed to continue.
Both fighters were covered in Rosado's blood in the seventh round as Rosado continued to bleed badly until his trainer, Billy Briscoe, climbed the steps and threw in the towel. When referee Steve Smoger saw the towel, he intervened and stopped the fight at 2 minutes, 46 seconds.
Rosado was a mandatory title challenger at junior middleweight but gave up the shot to rise in weight for a bigger payday -- and much tougher fight -- to face Golovkin.
"I just want to say this guy is strong as hell," Rosado said. "I just couldn't see. He's a tough fighter."
January 21 2013, 09:26