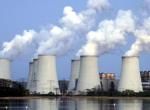 So far, Kazakhstan has no need for constructing a nuclear power plant, as stated by Minister of Energy Vladimir Shkolnik.

He said, "Everything is determined by the energy balance of the country. Today, we have an excess capacity, so the construction of a nuclear power plant without involving the facility in energy production is clearly excessive.
We are developing other sources of energy, and the decision on postponing the construction of a nuclear power plant may be reviewed if it's required by the economic situation, the situation on foreign markets and the rate of growth of our economy."
Speaking of the Russian-Kazakh comprehensive program on cooperation in the energy sector, Shkolnik explained its essence. He said, "The Russian side has acquired our permission for participating in exploitation of our joint resources on a commercial basis. We stipulated a condition that we get involved in their enterprises engaged in uranium enrichment."
"So now we have a similar business in Russia, which will bring similar dividends to our country. In this comprehensive program, we suggested that Russia shares the modern nuclear technology with us, so that we can build a modern nuclear power plant in our territory. Currently, this comprehensive program is being implemented. To date, much of the program has already been completed, with the exception of the nuclear power plant," the head of the national energy agency said.
Worth recalling, in autumn 2011, Kazakh President Nursultan Nazarbayev said that the country planed to build a nuclear power plant in its territory. He instructed the government to determine the specific location for the republic's first nuclear power plant.
Source: easttime.info
December 14 2015, 03:47