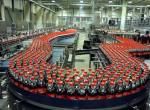 Next year, plans call for putting into operation a new plant of the brand Coca-Cola in the capital of Kazakhstan. The news was announced by chairman of the board of KAZNEX INVEST Borisbiy Zhangurazov during the recent press conference at the Central communications office.
According to him, "During 2016, we plan to implement eight projects worth $104 million, which will create 360 jobs. Of these, three will be implemented in the first half of 2016. In particular, the list of projects includes commissioning of a new Coca-Cola plant in Astana, and switching the Itall Cement plant in South Kazakhstan region to the dry method of cement production."
He added, "In the second half of 2016, it is scheduled to launch a new project – Heidelberg Cement. In addition, plans call for putting into operation a new terminal (with support from Japanese companies), and implementing a number of other projects in the transport and logistics industry."
According to the head of KAZNEX INVEST, more than 140 foreign investors are currently active in Kazakhstan's manufacturing industry. So far, they have implemented over 150 projects worth about six billion dollars, which resulted in the creation of more than 20,000 new jobs.
This year, under the state program Nurly Zhol, there have been implemented the first 5 projects totaling $43 million (with participation of foreign investors). With that, 260 jobs were created.
At the moment, the construction of the Coca-Cola plant in Astana is practically completed. The facility will produce a variety of soft drinks: kvass, lemonades, different kinds of soft drinks on the basis of cola, lime, orange and other citruses.
The new plant will be able to produce 100 million liters during the first year of operation, while in 2020 its capacity will reach 400 million liters.
Source: easttime.info
December 10 2015, 16:53