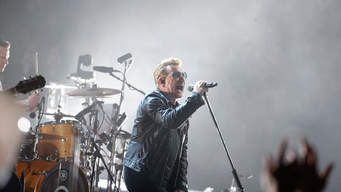 US rock band Eagles of Death Metal have appeared on stage in Paris, less than a month after deadly attacks during their performance in the French capital.
The band took to the stage to perform at the end of a U2 concert at the AccorHotels Arena.
"They were robbed of their stage three weeks ago and we would like to offer them ours tonight," said singer Bono.
Ninety of the 130 people who died in the 13 November attacks were killed at the concert at the Bataclan venue.
Bono embraced Eagles of Death Metal singer Jesse Hughes ahead of an emotional joint rendition of Patti Smith's People Have The Power.
EODM then performed I Love You All The Time.
An appearance by the Eagles of Death Metal at the 16,000-capacity arena had been heavily rumoured.
One concertgoer, Vera Golloch, told Agence France-Presse that everyone wanted to be at Monday's gig.
"It's historic and important, it really is," she said.
'Everything we hold dear'
U2 concerts had been slated for 14 and 15 November but were rescheduled after the terrorist attacks.
The Irish band instead played at the AccorHotels Arena on Sunday and Monday nights.
At the Sunday gig, Bono said: "We stand together with the families of those killed in Paris," as victims' names were projected on a huge video screen.
As an encore, Bono wrapped himself in a tricolour flag and sang a verse of Belgian singer Jacques Brel's Ne me quitte pas (Don't Leave Me).
Bono and guitarist The Edge both have houses in France. The Edge told CNN: "It seemed like the target [of the attacks] was culture and every kind of expression of the best of humanity - great music, restaurants, French food - everything that we hold dear."
Source: bbc
December 8 2015, 10:57