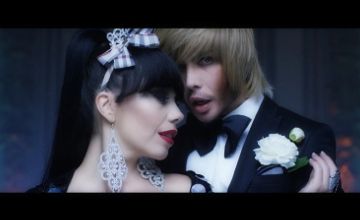 Kazakhstani singer Diana Sharapova taught the most outrageous star of the Russian show-business Sergey Zverev to sing in Kazakh. On December 1 the duet presented a music video of the Russian "New Year Ball". A week later the singers released a Kazakh song written by Erkin Suyunbayev from Kostanay, Kazinform learnt from Mironov Entertainment.
"It was quite uneasy to learn the lyrics of the song, because Kazakh is a difficult language. Kazakh alphabet has more letters than Russian, it also has sonorants which I can differentiate now," Zverev says.
According to Diana's producer Roman Mironov, it was Sergey Zverev's idea to shoot a music video with her.

"This is the first Kazakh-Russian duet singing in Kazakh. Sergey admires Diana's voice. It's a big success for us. Our singers should popularize the Kazakh language both in Kazakhstan and abroad. We will be happy to give a concert for Kazakhstanis in the nearest time. " said he.
Sergey Zverev is a famous hairdresser and stylist, and recently a singer and showman. He calls himself the "King of Glamour" and "Star of Shock."
Source: inform.kz
December 8 2015, 10:29