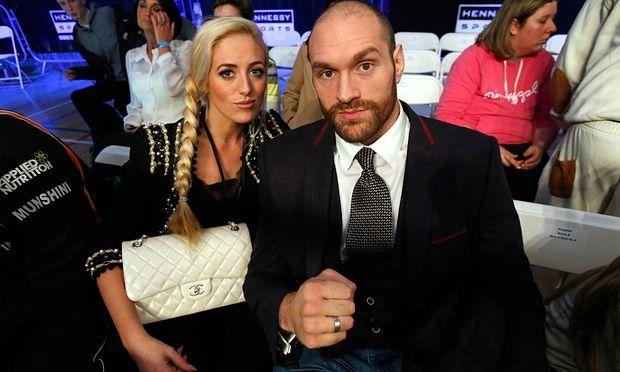 Broadcaster urged to act after boxer's string of sexist comments, including some about fellow Spoty nominee Jessica Ennis-Hill.
The BBC has come under renewed pressure to remove the heavyweight boxerTyson Fury from its Sports Personality of the Year shortlist after the newly-crowned world champion appeared unrepentant about a string of sexist comments, some directed at the Olympic and world champion heptathlete, Jessica Ennis-Hill.
Fury – who stunned Wladimir Klitschko to win the WBA, IBF and WBO belts last month – made outspoken comments about homosexuality and abortion in the buildup to the fight, and last week said that Ennis-Hill, a fellow contender for the award, "slaps up good".
He also said: "A woman's best place is in the kitchen and on her back – that's my personal belief."
When put on the defensive in an interview with Channel 5 on Saturday night, the 27-year-old said: "If I am going to get in trouble for giving women compliments for wearing a dress, then what has the world come to? Listen, I'm the heavyweight champion of the world and people look up to me. If there's any women in here tonight wearing dresses, I think everybody looks beautiful in a dress."
More than 75,000 people have signed a petition calling for the BBC to remove the controversial boxer from the Spoty shortlist.
The first wave of outrage directed at Fury came in the buildup to the Klitschko fight, when he compared homosexuality and abortion to paedophilia and then attempted to play down his comments by saying they come straight from "the holy scriptures". His remarks will be on the agenda when the British Boxing Board of Control meets on Wednesday.
Alice Arnold, the wife of Spoty presenter Clare Balding, took Fury to task in the Guardian last week: "If you don't like gay people and think we are the devil incarnate, then keep it to yourself unless you want blood on your hands – and not on your boxing gloves. It will be up to us to cast our votes … Perhaps this year 'personality' really IS important."
When it was put to the boxer on Saturday that he was the heavyweight champion of the world and his opinions carried weight, he said: "Look, the proof is in the pudding with me. Watch this space. Don't judge me on a couple of comments. Watch what I do."
The BBC has so far stood by its decision not to yield to public pressure and take Fury out of the running for the award.
"The Sports Personality shortlist is compiled by a panel of industry experts and is based on an individual's sporting achievement – it is not an endorsement of an individual's personal beliefs either by the BBC or members of the panel," a BBC spokesperson said.
Fury himself tweeted to say he did not want to win the award, writing: "Hopefully I don't win BBCSPOTY as I'm not the best [role] model in the world for the kids, give it to someone who would appreciate it."
The boxer's wife, Paris Fury, defended her husband in an interview with the Sunday Mirror. "Sometimes he sounds terrible and he sounds brash but he's not like that. He has a show side to him. He's a loud personality person, but there's no harm in him," she said.
On Friday Fury put out a statement claiming he was not homophobic: "I am aware of the recent newspaper articles and I would like to put on record that I am not homophobic," he said. "I have homosexual friends and I do not judge them because of their sexuality. My comments that you may have read are from the holy scriptures and this is what I live from."

As it stands, the unbeaten boxer is likely to experience a rare and heavy defeat at the Spoty awards on 20 December.
Source: theguardian.com
December 7 2015, 16:31