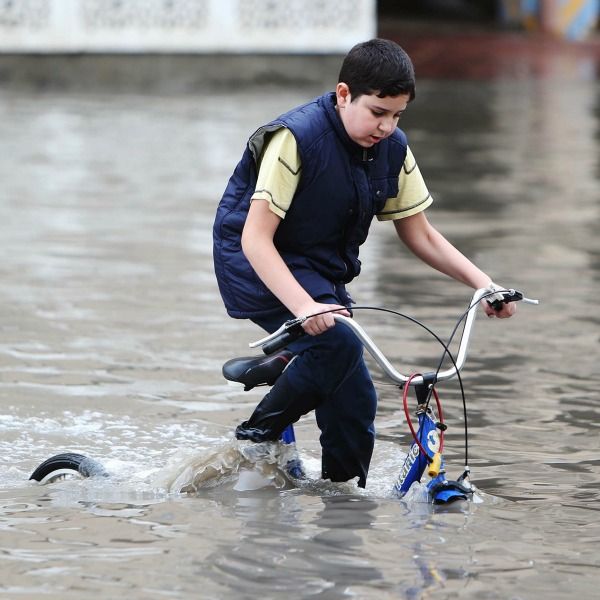 Overnight rain made many roads near impassable for commuters amid reports on social media that even Doha's Hamad International Airport was affected, due to leaks at the estimated USD 17 billion (16 billion euro) building, which opened last year.
The heaviest rain - 66 millimetres, according to the Qatar Meteorology Department - fell around the airport but Hamad International said that flights were operating normally, despite the weather conditions.
The US embassy said that the weather had forced it to shut today and the offices would not open again until next week.
The interior ministry pleaded for drivers to "be cautious" in the rainy conditions.
Football World Cup 2022 host Qatar is well-known for its fierce summer temperatures, which will force the tournament to be played instead in November and December.
In Saudi Arabia
In neighbouring Saudi Arabia, schools were closed for a second day today as rain continued to fall on Riyadh, flooding some streets and forcing drivers to abandon their cars.
About 10 cars were submerged under about two metres (more than six feet) of water in a highway underpass in the Labban district on the capital's western outskirts, an AFP photographer reported.
Workers were trying to drain the floodwaters into tanker trucks as a light rain fell from gloomy skies.
The Civil Defence agency reported that 72 vehicles had been rescued in the Riyadh region with their occupants unharmed.
One person died in Rimah, northeast of the city, the agency said.
Roads in the city centre were unaffected, although traffic moved along the main King Fahad Road even more slowly than usual.
Some side streets were partly flooded elsewhere in the desert city of 5.7 million, which is dry and sunny for most of the year. Other parts of the kingdom have also been soaked this week. At least eight people died in flooding last week in the Medina and Jeddah areas of western Saudi Arabia.
Source:dnaindia.com
November 27 2015, 10:14