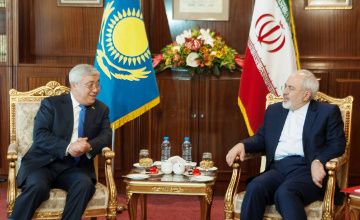 Iranian President Hassan Rouhani has received Minister of Foreign Affairs of Kazakhstan Erlan Idrissov during his visit to Tehran today.

At the meeting, President Rouhani described Kazakhstan as a brother and friend country in the region and stressed the need to activate the enormous capacities that exist in both countries to develop Tehran-Astana ties.
"Closeness and cultural and historical commonalities between the two nations is a good groundwork for expanding ties in all areas, especially economy", said President Rouhani.
President Rouhani also called for strengthening ways of communication between Iran and Kazakhstan and linking Central Asia with the Persian Gulf through Iran and said: "Launching the railway between Iran and Kazakhstan through Turkmenistan, in addition to connecting the Persian Gulf to China, has cemented amicable bonds and cooperation between Tehran and Astana more than before".
Speaking on the issue of terrorism and the need to united fight against it, President added: "Combating terrorism requires determination and resolve from the part of all countries and in this fight, the roots of terrorism should be paid attention to more than before".
On the bitter incidents in the region during the past weeks, Dr Rouhani continued: "These kinds of incidents can be worrying for all countries of the region".
"If we don't consider terrorism as the main threat, there is no guarantee for stability and security in other parts of the region, therefore, it is necessary that all countries cooperate in this matter" added Rouhani.
In this meeting, Kazakh Foreign Minister Idrissov said: "Kazakhstan considers Iran's role in resolving regional and global issues as key and, therefore, is willing to act alongside Iran".
Stressing that economic growth is the base for establishing and maintaining security, Idrissov continued: "Kazakhstan is willing to expand exchanges and cooperation in the region, especially with the Islamic Republic of Iran".
He also mentioned the earlier agreement between the Presidents of the two countries to expand level of exchanges to $5bn and the transit level to 15 million tons. The Kazakh FM also said that President Nazarbayev is going to travel to Iran in the near future.
In conclusion, Minister Idrissov thanked the Iranian side for its support and participation in the upcoming International specialized exhibition EXPO 2017 in Astana.

Source: www.president.ir/en/
November 25 2015, 18:42