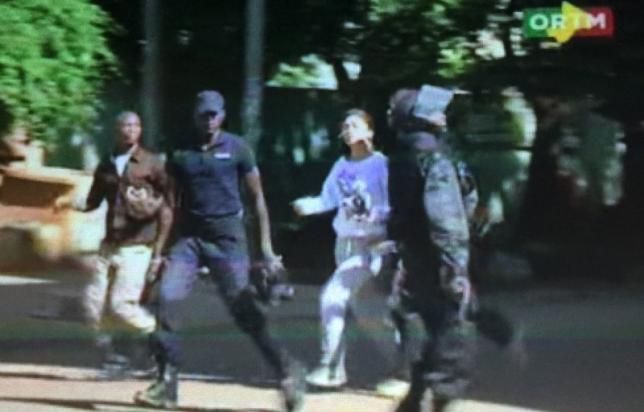 Malian special forces stormed a luxury hotel in Bamako on Friday after Islamist gunmen took 170 people including many foreigners hostage in the capital of the former French colony, which has been battling rebels allied to al Qaeda for several years.
"They've penetrated inside the hotel. The operations are under way," a police source told Reuters.
State television said 80 hostages had been freed but the French newspaper Le Monde quoted the Malian security ministry as saying at least three people had been killed in the initial attack. A witness outside the hotel said gunfire could be heard from time to time.
A senior security source said the gunmen had burst into Radisson Blu hotel at 7 a.m. (0200 ET), firing and shouting "Allahu Akbar", or "God is great" in Arabic, and begun working their way through the building, room by room and floor by floor.
Some hostages escaped under their own steam while others were freed after showing they could recite verses from the Koran, one security source said.
Twelve Air France (AIRF.PA) flight crew were in the hotel, but all were extracted safely, the French national carrier said.
A Turkish official said three of six Turkish Airlines staff who had been in the hotel had managed to flee.
The Chinese state news agency Xinhua said several Chinese tourists were among those trapped inside the building.
Malian President Ibrahim Boubacar Keita cut short a trip to a regional summit in Chad to return to Bamako, his office said. French President Francois Hollande said France would "use all the means available to us on the ground to free the hostages".
At least three hostages dead in attack on Bamako hotel - Malian Security Ministry, quoted by French Le Monde website.

Two private security guards injured in attack on luxury hotel in Mali capital - Head security guard says.

Gunmen moving floor by floor, have arrived on the seventh floor of Radisson hotel - Senior security source.
Source: reuters On photo: Still image from video show a hostage rushed out from the Radisson hotel in Bamako, Mali, November 20, 2015.
November 20 2015, 17:26