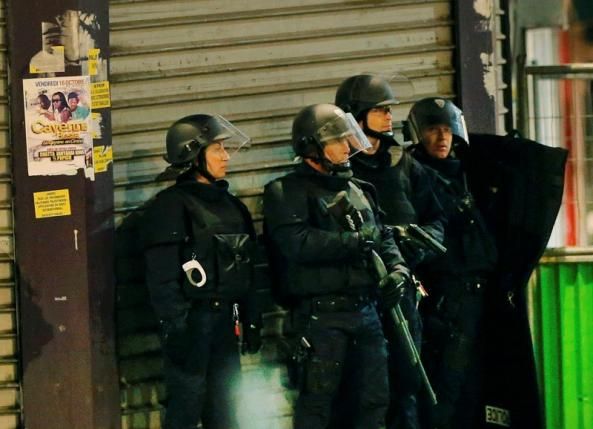 Gunfire erupted in a north Paris suburb early on Wednesday as special police forces launched an operation to catch one of the suspects believed to be behind gun and bomb attacks in which 129 people were killed last week, a police source told Reuters.
Friday night's attacks in the French capital, claimed by Islamic State militants, raised security concerns around the world, with an international soccer match called off in Germany and two Air France (AIRF.PA) flights from the United States diverted.
In Syria, France and Russia bombed targets to punish Islamic State for the coordinated Paris massacre and the downing of a Russian airliner over Sinai on Oct. 31.
French TV stations BFMTV and iTele both showed amateur video of Wednesday's early morning shooting and cited witnesses in the area saying they had heard sporadic gunfire since around 4:30 a.m. (0330 GMT).
BFMTV said some police had been wounded during the operation, which took place near the Stade de France sports stadium, where three suicide bombers detonated their explosive belts and killed a passer-by on Friday.
French prosecutors have identified five of the seven dead assailants from Friday - four Frenchmen and a fifth man who was fingerprinted in Greece among refugees last month.
But they now believe two men directly involved in the assault subsequently escaped.
Islamic State said it carried out the attacks in retaliation for French and Russian air raids in Iraq and Syria. Investigators said the Paris plot was hatched in Syria and nurtured in Belgium.
Source: reuters
November 18 2015, 11:15