With police having identified more than 100 of those who died in the Paris attacks, residents are trying to cope with the difficult sights, the grief and the fears. How can individual citizens heal national wounds?
Hundreds of people gathered late Saturday at the site of the Bataclan concert hall following the Paris attacks to pay their last respects to the ones who lost their lives there just a day earlier.
Although many said they intended to go out for a drink later on "to show that they (terrorists) won't win," the people in the crowd were clearly on edge. Indeed, the tension and trauma are evident everywhere, despite Parisians' characteristic defiance about the fun-loving and carefree lifestyle for which their city is renowned.
"It's very personal, what's happened," a French actor who lives near the Bataclan concert hall told French media. "They hurt us in the center of our lives and any of us could have been one of those killed."
Feeling powerless
As politicians send their condolences to France, and EU interior ministers are due to meet for emergency talks, ordinary French people in the street might feel neglected or helpless.
"You cannot imagine how powerless you feel. If I had had a gun, I would have opened fire, rather than sit in front of a window waiting for death to arrive," a 23-year old Parisian who survived the attack on the Bataclan told French news agency AFP.
Another Parisian said he left one of the targeted cafes just moments before the attacks. "Those are all places that I often go to," he said. "We just want to come here, bring flowers, because we don't want to be terrorized... but it is frightening."
"Luckily I was out of town at the time of the massacre, but I'm still very scared," Gal, an Israeli living in Paris, told DW. "Coming from Israel I know that even if disasters don't hit you directly, you can still be traumatized by them, and they could have a long effect on you."
Trauma at second hand
According to trauma therapist Jan Kizilhan, Gal is very right.
"This is called a secondary trauma," he explains.
"Even if someone merely tells you about a negative event or situation, you can be traumatized - regardless of the fact that it didn't happen to you," says Kizilhan, who works at the Baden-Württemberg State University in Germany.
Jan Kizilhan says society should tackle trauma together
"Sometimes, even if you see something only on TV, you can develop a fear which you can't deal with. You can have unrealistic anxieties, and this could escalate to a pathological level. You can even develop social problems, such as being scared of going to work, having a hard time communicating with people or experiencing difficulties in relationships," Kizilhan says.
Talk openly
According to Kizilhan, national trauma should be dealt with as a community, as a society, "because the target of this terror is also collective." When Western, democratic societies are targeted, the best way to deal with the sense of threat is to reunite based on a sense of togetherness, he says.
"It's important to stand together, show solidarity, talk openly about these kinds of trauma. First of all, we have to acknowledge that this kind of terrorism exists," he says. "Then, both for us adults and for our children, we have to stress that Muslims are not terrorists, and that there is a specific organization called 'Islamic State' that has caused this."
Kizilhan, who used to work with countries in conflict such as Iraq, Israel and the Palestinian territories, urges people to refer to traumatic events in public discourse, rather than pushing them away or avoiding talking about them. "This is relevant also at the political level, among governments and ministers," he adds.
Back to normal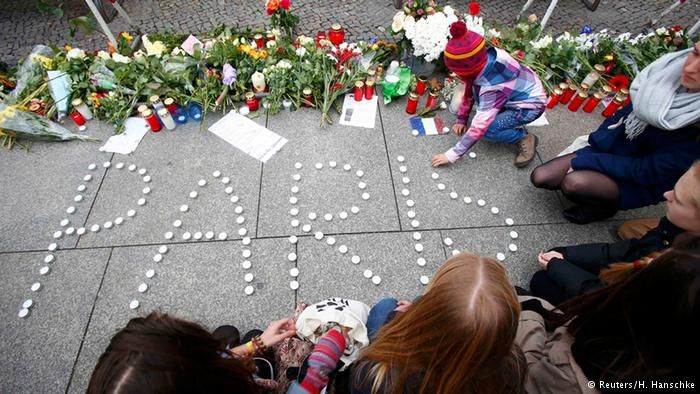 Rather than carrying these feelings around and repressing them, Kitzilhan stresses that it is very important to talk about them openly and freely.
"If you don't release these thoughts, fears and anxieties out of your system, and you make them some sort of a taboo, it will not help you on the psychological level or help to heal society and restore its strength."
Gal says he and his friends always try to be very honest and share their thoughts about events. "Coming from another country, I feel like I can truly show my friends that this is not only a French issue. People all over the world have to deal with these traumas, usually even more than we do."
According to Kizilhan, political topics should be debated as early as childhood. "We have to start talking about it with our children and it should be part of the education system, too. The media, schools, universities: they all have to be prepared for the new situation that we are facing regarding international terror."
Ordinary people, he says, have to know what trauma is and how to identify and tackle it. The assumption that children are perhaps too young to grasp the full meaning of a terrorist attack, he argues, is not accurate, to say the least.
"Children are very clever and they know exactly what is happening. If you don't talk to them, they might get wrong information, or worse, not get information at all, which could lead to fears and anxieties that you cannot control. However, of course, it should be done on a level that children can understand."
The most important thing is, perhaps, to keep on living in a normal way. "To go out, to have fun, to be happy, to do all the things we did yesterday and the day before that. This lesson applies to children and adults alike. We have to give people basic information about the trauma and its psychological effects. After that, we need to give them tools and educate them how to deal with it."
If we are not able to have normal lives, Kizilhan stresses, terrorism has won. "And this is what terrorism actually wants, isn't it?"
Source: dw.com
November 16 2015, 10:05