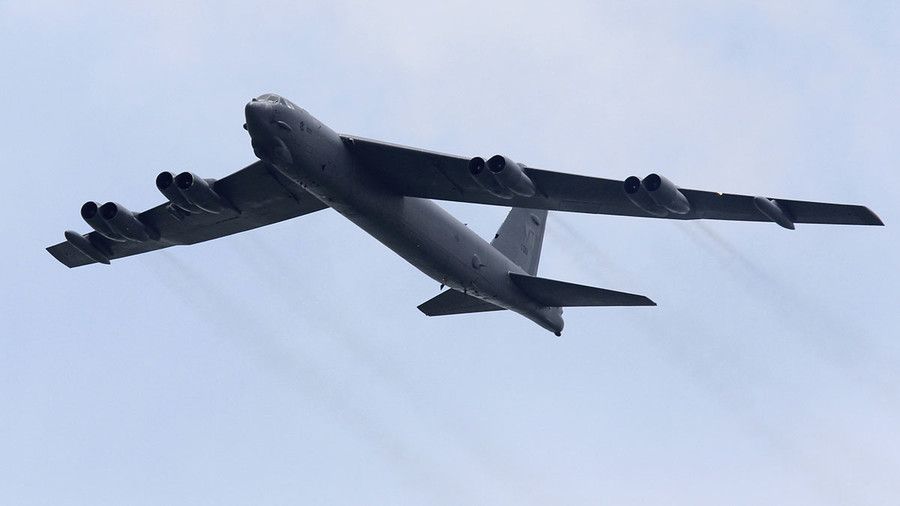 Two US B-52 strategic bombers have flown near Chinese artificial islands in the South China Sea, ignoring calls to "get away" from Beijing's airspace, the Pentagon said, claiming the "routine mission" was in accordance with international treaties.
The Pentagon points out that it regards the flights near the Chinese manmade islands as fully legitimate because from a US point of view, the airspace over the islands is a part of international airspace. The US military spokesman added that the B-52s did not get within 12 miles of the islands.
"We conduct B-52 flights in international airspace in that part of the world all the time," Pentagon spokesman Peter Cook said at a news briefing. "There was one B-52 flight...there was an effort made by Chinese ground controllers to reach out to that aircraft and that aircraft continued its mission unabated. Nothing changed."
The Chinese military contacted the bombers, urging them to "get away from our islands," according to a US official who spoke to The Hill.
The overflight took place overnight on November 8-9, another Pentagon spokesman Bill Urban specified, saying there were two bombers conducting a "routine mission".
The incident comes around two weeks after a serious incident involving the US destroyer USS Lassen, which sailed close to the artificial islands. China was extremely critical of the US Navy's actions.
"These actions of the US warship are a threat to the sovereignty and security of China, and safety of people living on the islands; they damage peace and stability in the region. In this regard, the Chinese side expresses extreme dissatisfaction and strongly protests," a statement posted on China's Foreign Ministry website read.
Ashton Carter, the US Secretary of Defense, said the US will sail and fly wherever it is allowed within international law.
"We will continue to fly, sail and operate wherever international law allows," he said on Saturday in California at the Reagan National Defense Forum, the Hill reports.
"It's important to remember that America's rebalance and this regional security architecture has never aimed to hold any nation back or push any country down," he added.
The Senate Armed Services Committee Chairman John McCain called on Carter to clarify publicly the legal intent behind such operations.
"Given the sensitive political dynamics and detailed legal implications of our actions, it is vital that there be no misunderstanding about our objectives in either the Asia-Pacific region or within the international community," McCain wrote.
China is building several artificial islands in the disputed area, which is a part of the Spratly archipelago in the South China Sea, to host radar stations, airstrips and other facilities. Beijing claims the military aspect of its reclamation program is minimal and that the islands' purpose is mostly civilian.

China believes the islands to be its sovereign territory, and strictly considers the 12-mile zone around the islands to be exclusively its territorial waters.
Source:rt.com
November 13 2015, 12:12