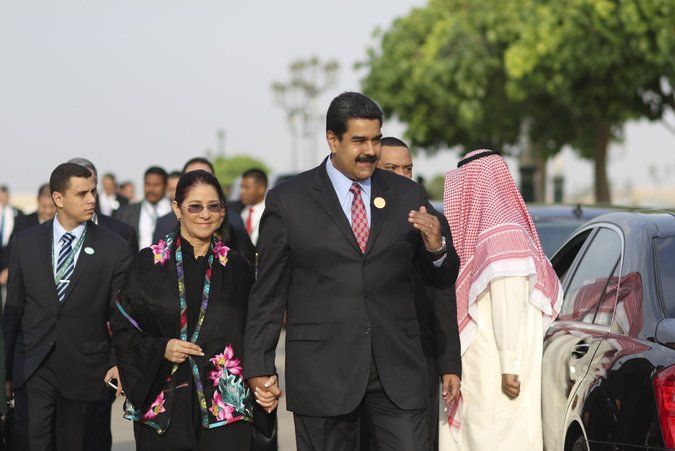 Two nephews of Venezuela's first lady have been arrested and brought to the United States to face drug trafficking charges, people familiar with the matter said on Wednesday.
Franqui Francisco Flores-de Freitas, 30, and Efrain Antonio Campo-Flores, 29, were flown to New York on Tuesday, a source said. Both are nephews of Venezuelan President Nicolas Maduro's wife, Cilia Flores, according to two sources linked to the Flores family.
The news may tarnish Maduro's image as he heads toward legislative elections in December that are expected to be among the most difficult for the ruling Socialist Party due to the OPEC nation's economic crisis.
The U.S. State Department says that more than half of the cocaine produced in neighboring Colombia is trafficked through Venezuela toward markets in Europe and the United States.
Maduro denies those charges, calling them a smear campaign against the Socialist Party.
The two were arrested in Haiti at a hotel in the capital, Port-au-Prince, on Tuesday by anti-narcotics police at the request of U.S. authorities, according to a senior Haitian official.
They were flown out of the country later that day accompanied by agents from the U.S. Drug Enforcement Administration, the official said.
They were arrested after contacting an undercover U.S. agent about selling 800 kg (1,763 lb) of cocaine through Honduras, the Wall Street Journal reported, citing two sources familiar with the matter.
No charging documents were immediately available on Wednesday. A spokeswoman for Manhattan, U.S. Attorney Preet Bharara, declined comment.
Venezuela's Information Ministry did not immediately respond to calls seeking comment.
Flores, 62, whom the president refers to as the "First Combatant," is highly influential under the government of her husband. She worked on the legal team of late socialist leader Hugo Chavez, working to secure his 1994 release from prison after a failed coup attempt.
In 2006, she became the first woman elected to lead the legislature, taking over that role from Maduro, and is registered as a candidate in the Dec. 6 legislative elections.
She is frequently seen at Maduro's side in public events, and on Wednesday was with him in Saudi Arabia.
Maduro is scheduled to speak at the United Nations Human Rights Council in Geneva on Thursday to defend his country's human rights record in the face of accusations he has stifled dissent.
The U.S. State Department said in a report in March corruption in Venezuela facilitates drug smuggling, and it implicated high-ranking Venezuelan government officials in the trade.
The U.S. Treasury has placed nine Venezuelan officials on a "kingpin" list, which bars those suspected of involvement in large-scale drug trafficking from the U.S. financial system.
At least 100 military and police officials in the last five years have been accused of drug trafficking by Venezuelan prosecutors, according to the state prosecutors' office.
Source: reuters
November 12 2015, 15:39