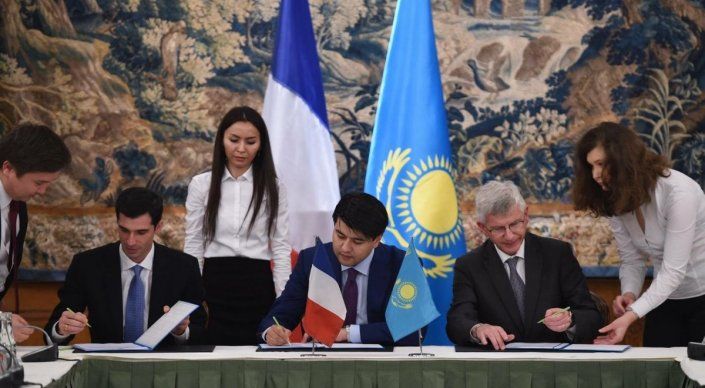 Peugeot Citroën is launching full-cycle assembly of cars in Kazakhstan. Kazakhstan's National Management Holding Baiterek has signed a framework cooperation agreement with Saryarka AvtoProm, which is part of AllurGroup, and Peugeot Citroën to develop automotive industry in Kazakhstan.
The cars will be assembled at the automobile plant in Kostanay city in northern Kazakhstan.
Under the agreement, Baiterek holding will consider financing full-cycle production ofPeugeot Citroën cars in Kazakhstan at the facilities of the Saryarka AvtoProm company. In addition, National Holding Baiterek will consider providing support for promotion and sale of the cars.
"Provision of financial support to prioritized sectors of the country's economy is the strategic direction of the holding's work. By investing in the joint project implemented byPeugeot Citroën and AllurGroup, we promote the development of profitable for the country industrial partnerships, technology exchange and diversification of the automotive industry of Kazakhstan," Chairman of the managing board of Baiterek holding Kuandyk Bishimbayev said.
Vice-president of Peugeot Citroën group Christophe Bergeron noted that despite the changing economic environment, the group remains committed to its strategic business direction in the CIS region (post soviet space). According to Bergeron, the group plans to expand the commercial and industrial presence in Kazakhstan, a key step of which would be to set up the full production cycle in Kostanay. The automobile production in Kazakhstan would not only strengthen the group's positions in the region, but would also facilitate the development of automotive components suppliers and increase the level of localization of the industry as a whole, Bergeron said.
The agreement was signed as part of the official visit of President Nursultan Nazarbayev to France. Before the agreement between National Holding Baiterek JSC and Peugeot Citroën PSA was signed, Nazarbayev met in Paris with the Chairman of the managing board ofPeugeot Citroën Carlos Tavares. During the meeting, they discussed the prospects of cooperation between AllurGroup and Kazakhstani automakers, the group's activities and its expanding presence in Kazakhstan. Carlos Tavares told Nazarbayev about the group's collaboration with Kazakhstani partners over the past two years, its final products and plans to export to the markets of neighboring countries.
As part of his visit, Nazarbayev also met with the CEO of the integrated oil and gas company Total Patrick Pouyanné to discuss cooperation in production of hydrocarbons, in particular development of the Kashagan oil field and implementation of other investment projects in Kazakhstan.


Source: tengrinews
November 11 2015, 12:03