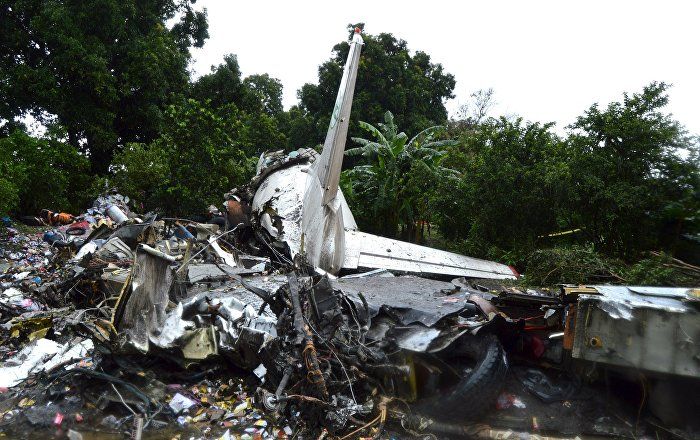 At least 25 people were killed in the crash of an An-12 cargo plane in South Sudan, media reported Wednesday.

A cargo aircraft with five Russian crew members and passengers including childrens on board has crash-landed in South Sudan's capital shortly after taking off, South Sudan Tribune reported. People on the ground killed in the crash besides crew and passengers on board.
According to local media reports, the plane was headed to Paloich in the Upper Nile Region. Overloading, technical issues are among possible reasinf for the cradh, the local media reports citing Sudanese civil aviation department.

Reuters reports citing eyewitnesses at the crash scene that over 40 bodies were found while up to 20 people could have been on board.
The Russian Foreign Ministry is checking information about the crash of a Russian cargo plane in South Sudan, the press service said in a statement Wednesday.

The Russian embassy in Uganda is clarifying the information on the crash of the Russian cargo plane in South Sudan, the embassy's spokesperson said Wednesday.

"We are clarifying details. We cannot say anything in particular. We are getting in touch with the competent authorities of South Sudan," Radmir Gaynanov told RIA Novosti.

Meanwhile South Sudan's authorities have confirmed Antonov cargo plane's crash with 20 people on board.

Ukraine's Antonov aircraft manufacturer is verifying reports on the crash of its An-12 model in South Sudan, the company's press service said Wednesday.

"We are now dealing with this issue. Our experts are trying to find out what side number the plane had," the press service told RIA Novosti.

Source: sputniknews
November 4 2015, 15:18