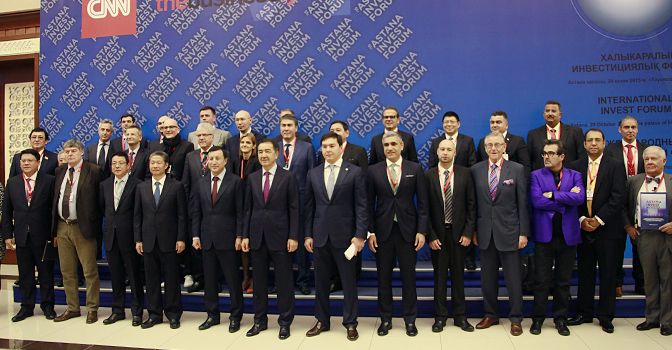 The Astana Invest Forum 2015resulted in signed of 30 investment memorandums, the press service of the Kazakh government said.
The Astana city administration and the China Railway Asia Europe Construction Investment Co.Ltd signed a document for $ 100 million for establishment of the engineering and construction machinery leasing company.
$ 400 million will also be attracted to other major investment projects.
Forum aimed at demonstrating Kazakh capital's investment opportunities in the field of transport, infrastructure, innovative development and the development of modern public transport.
VI Astana Invest 2015 International Investment Forum took place in the capital of Kazakhstan from October 28 to October 30. Businessmen from over 20 countries - potential investors participated in the forum. Tour to industrial parks in Astana, master classes by world-famous coachers, B2B and B2G meetings, the General Session of the Forum involving over 1000 participants were organized within the forum.
In addition, 70 exhibition centers of investment projects, Smart City, EXPO-2017 and "Made in Astana" pavilions were organized.
Foreign participants of the General Session of the Forum were the famous billionaire Jim Rogers, the Chief Adviser to the World Economic Forum (Davos), Author of the Global Competitiveness Index, Xavier Sala-i-Martin, Director of the Department for Development Opportunities of the Center for Liveable Cities, Aw Tuan Kee, the CEO of World Free Zones Organization, Samir Amruni, and many others.
CNN was the main media partner of Kazakhstan's Forum.
Source: akipress
October 30 2015, 10:57