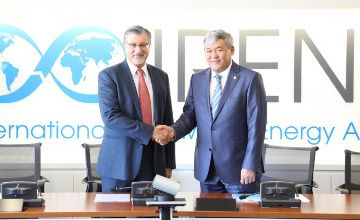 The international renewable energy agency (IRENA) officially confirmed its participation in the EXPO-2017, Director General of the IRENA Adnan Amin told at the meeting with Deputy Minister of Foreign Affairs of Kazakhstan and EXPO-2017 commissioner Rapil Zhoshybayev, which was held in Abu Dhabi, the Ministry of Foreign Affairs of Kazakhstan informs.

A. Amin handed the letter over to R. Zhoshybayev addressed to Prime Minster of Kazakhstan Karim Massimov at the meeting. The interlocutors also discussed the prospects of cooperation of Kazakhstan with the agency including in the context of the joint promotion of the theme of the EXPO-2017 at the international platforms.
R. Zhoshybayev also met with Assistant Foreign Minister for Political Affairs of the UAE Ahmed Al Jarman on the same day. The sides discussed the issues of development of bilateral relations in the political, trade and economic and investment spheres. A. Al Jarman expressed the readiness of the UAE to sign the intergovernmental agreement with Kazakhstan on stimulaiton and mutual protection of investments. The sides also reached an agreement regarding signing of the Protocol on visa-free regime for holder of service and special passports and regarding initiation of negotiation process on introduction of a complete visa-free regime for the citizens of both countries.
Besides, R. Zhoshybayev met with Deputy Director General of the National Media Council of the UAE Salem Al Ameri where S. Al Ameri assured that the UAE would promote the EXPO-2017 in the media of the Arab countries.
Source: inform.kz
October 13 2015, 11:52